The truck sim game American Truck Simulator is surely one of the best games of its genre, but the best ATS mods make it even better. On top of the vanilla game's beautiful areas, plenty of classic trucks, good vehicle handling, and high production value, these great American Truck Simulator mods are certain to improve your experience. Without further a due, here are the best American Truck Simulator mods you can download for free right now.
Also, read Best RTS Games of All Time on Steam
Best ATS Mods
---
Misguided's Realistic Weather
Misguided's Realistic Weather is a simple visual mod basically makes it so that there is much more rain spatter on your windshield when it rains in American Truck Simulator. It makes seeing what is ahead way harder, thus making rainy days much more challenging. And it also affects your side windows as well, and AI vehicles now turn on their headlight when it starts to rain. An essential American Truck Simulator mod for more immersive gameplay.
---
Klaas' Real Gas Prices
As you can understand from its name, Klaas' Real Gas Prices is a small quality of life improvement that changes the gas prices in the American Truck Simulator daily to reflect the current real prices. For example, if you travel to California, the prices will be considerably higher while New Mexico and Oregon are cheaper. A fundamental ATS mod for those looking for authenticity.
---
Real American Gas Stations
If you are buying gas at real-life prices with our previous mod pick, why not buy it from real gas stations? Real American Gas Stations is a great American Truck Simulator Mod that replaces all original gas stations in ATS with real American gas stations such as BP, Chevron, Shell and Irving.
---
Real Company Logo
Real Company Logo is one of the essential American Truck Simulator mods that will further increase your immersion to the game by changing all the corporate branding in the game to the ones that exist in real life, such as Walmart, FedEx and even car brands like Ford and Audi.
---
Realistic Graphics Mod
If you are looking to improve the average graphical quality of American Truck Simulator, Realistic Graphics Mod is one of best graphics american truck simulator mods you can find. It adds 72 new, realistic skybox textures in 4K as well as improving in-game coloring, light flares & reflection effects, terrain and water textures, rain & thunder sounds and effects and climates.
---
SiSL's Mega Pack
Yes, those are Star Wars characters in your driver cabin. SiSL's Mega Pack is a huge mod pack that contains over 400+ cabin accessory items suitable for your taste, bringing female and male co-drivers, bobbleheads, accessories for truck driver needs, snacks, electronic devices, computers and tablets, lots of scarves, fresheners, toys and many more.
---
Realistic Headlighting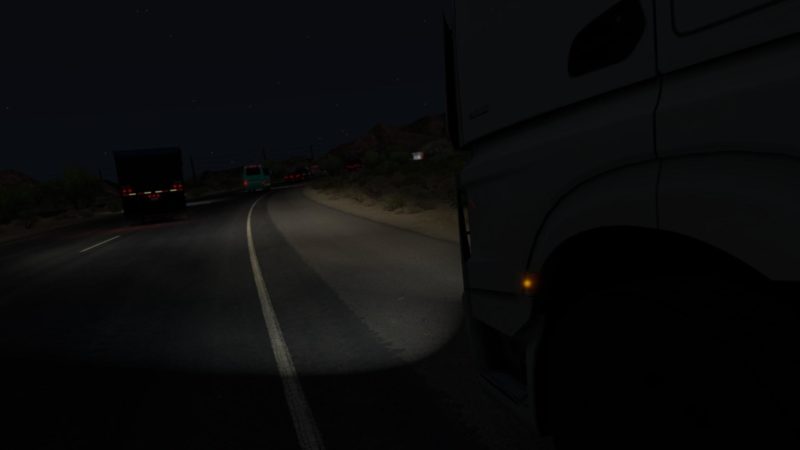 Realistic Headlighting is a good starter mod that reworks of headlighting visuals in the American Truck Simulator to make it more realistic. It supports 5 trucks: Kenworth W900, T680, Peterbilt 389, 579 and VOLVO VNL. It is perfect for those night trips across America.
---
Smarty's Wheel Pack
If we pass those other real-life american truck simulator mods like gas stations and brands, it comes to small details, like our truck's tires. Smarty's Wheel Pack is a small model mod that adds actual real-life tires and wheels like Michelin and Goodyear into American Truck Simulator. It is also compatible with trailer mods, but the wheel pack must have a higher priority in the mod manager than trailers in order to work properly.
---
Realistic Mirror FOV
The native game's field of view of your rearview mirror is highly inaccurate and can cause you trouble while changing lanes and parking since it makes things seems much further away than they really are. Realistic Mirror FOV is a useful american truck simulator mods that will fix problem in no time.
---
DP's Realistic Traffic
Apart from other great ATS mods, this is one of the most essential ones for the ultimate realism and immersion. DP's Realistic Traffic increases the density of the traffic based on time of day and changes the AI vehicles' behavior for a more realistic experience. They are much less patient and police spawns also vary depending on the state you are in.
---
Actual Day/Nighttime Mod
If you truly want the most realistic gameplay experience American Truck Simulator has to offer, download Actual Day/Nighttime Mod. It changes the time of the game depending on the time of your current location and even makes it so that in winter you will have long nights and short days.
---
Minimal Adviser Interface
Minimal Adviser Interface is a user interface mod for ATS that modifies your UI to be less disruptive. It only leaves the absolutely necessary data, so you can enjoy what you love the most, which is driving. You can toggle the GPS on and off with the F3 key, use F6 for job information, F7 for truck damage status, and F8 for info panel.
---
New Mountain Textures
For our last mod picks, we have some graphics ATS mods. If you want a better view of the world of ATS while traveling around America, New Mountain Textures will bring some fresh, more realistic and higher quality mountain textures for you to enjoy.
---
Realistic Roads
Realistic Roads mod reworks the road textures of the ATS to be higher quality and more realistic. The ats mods also adds new asphalt textures like cracked gray asphalt, dark granulated asphalt and light gray asphalt, so there is more variety depending on your location on the map.
---
Enhanced Vegetation
One of the essential ats mods for the game if you want better landscapes in American Truck Simulator is Enhanced Vegetation. It reworks the native game's vegetation textures to be closer to real life and adds a lot more on top of it for more variety and eye candy.
---
Rescued 1977 Peterbilt 359
If you have followed ATS properly in recent years, then you must have noticed that an old Peterbilt truck went viral. And hence, it is here in our list. That's what fascinates us about the internet.
A couple of people click on the same thing, and then boom! One day, everybody wants it. Rescued 1977 Peterbilt 359 mod can be added if you want to capture a restored version of the 1977 Peterbilt. Keep in mind that all the bells and whistles come intact with this Peterbilt truck. This is a great mod that gives you a classic old-school vintage truck to add to your truck collection.
---
Mack R Series
Macks make for a great truck series, you have to give them that. And no other truck model is better than the Mack R. These trucks have been on the road for more than 400 years and you must have also noticed it in pop culture.
The creator of this mod worked on it for more than 2 years, so this is a special one for sure. The dimensions of the truck mod are taken from the late 70s models and the engine follows the same. There are several customizable parts of this truck series.
It has all the standard truck features along with real specs, engines of the Mack R series. Given that it pays such great attention to detail, it is obvious that this is one of the best ATS mods out there!
---
Mack Trailer Skin Paintable
If you are looking for some sleek trucks, then you have to check this one out! This Mack trailer skin takes inspiration from the cool and dashing current-era MAC trailer models. And if you are a fan of ATS, then you ought to know how great it fits in the game.
You need to have a couple of stylish and modern trucks in your collection in addition to owning the vintage style ones. Otherwise, it might become boring for you. Not to worry because this overtly spacious truck comes in a cool black color with lights lining its borders throughout. So, hurry up and download this mod now!
---
Real Fuel Prices Live
Notice that the name of this mod has "real" in it. What it implies is that with Real Fuel Prices Live mod, you will get the actual real-world fuel prices of all the major locations in the world. If ATS wasn't a very realistic game already, it just stepped up the bar higher by including this connection to the real world.
The fuel prices might bring some headaches in reality. But, when you look at it from the business management point of view of ATS, then you'll get how important and great it is. Download it now to know the real-world prices of fuel at different places like that in Mexico, North Carolina, Connecticut, and so on.
---
Air Ride A Series by Momo
As the tagline of the Momo Air Ride goes, turns out they really do care about your butt. You cannot install mismatched hydraulics on your truck with a low-rider. Riding a truck invites many up and down jerking motions and so, your seat should be strong enough to handle your weight.
The Air Ride A series from Momo brings a unique suspension technology with cutting-edge features like butt rubbing and butt lifting. Besides, it also features seat warming and cooling features and a fart purifier as well.
So, no one would know if you farted while driving a truck. A really cool truck ride series from Momo that incorporates several great features to cater to your seating needs!
---
Conclusion
There you have it, best ATS mods that will enhance your immersion and realism for a great truck sim experience. These add-ons are quintessential for those looking to further improve a great game like ATS with better content, so hop in right away and download them. If you have more ats mods suggestions or think that our article helped you, let us know!