When gamers build a new PC, they want the best GPU and CPU they can afford coupled with high RAM and fast SSDs for lightning-fast load times. But, while hyping up for these important specs, we can sometimes forget about the important piece of hardware that ties all these together: motherboard. Selecting the best gaming motherboard for an Intel-based rig is much easier these days. If you are thinking to build a gaming PC under 500 USD or need the best motherboard for an Intel Core i7-8700K, we've got you covered.
What to Look for in a Gaming Motherboard?
RAM Slots: Your RAM is used on almost everything you do on your PC. It is essential that you have enough RAM for the aimed task so that it will not bottleneck your system. But, to be able to that, you need enough RAM bays on your motherboard. Even though you can install 32 GB of RAM to 2 slots, that will be more expensive than installing 8 GB of RAMs to 4 slots.
CPU Socket: Your CPU socket must be compatible with the CPU you're using/planning to use. Intel 8th Generation Core processors use LGA 1151 socket. AMD utilizes backward compatibility and uses the AM4 socket for all of its mainstream chips. Intel changes its socket compatibilities more often.
Size: Motherboards have 3 size categories: ATX, Micro-ATX and Mini-ATX. ATX is the biggest one that has most features and ports while Mini-ATX is for smaller PC cases with smaller size and fewer features.
Price: Motherboards are probably the PC hardware that the consumers are most confused about. Most gamers think they need the most expensive board to enhance their experiences, but this is not true. Your motherboard does not directly affect your PC's performance, so you only need to look for features that you actually need.
2018 Best Gaming Motherboards
If you buy a motherboard that is incompatible with one of your other hardware or that isn't futureproofed so you'd have to change it if you wanted to upgrade another piece, you will regret it and understand why you should've done your research better before buying the brain of your computer.
If you use or plan to use an AMD CPU and you are in a budget, there are very few motherboards that tick as many boxes as B350 Tomahawk. For $90, you get a board that can fully utilize your latest Ryzen CPU with enough USB ports and fan headers, MSI's excellent EFI and software, an M.2 port for high-speed NVMe SSDs and a couple of SATA ports for extra HDDs. It doesn't have any extra features and Realtek ALC892 sound codec performs poorly on the sound quality department, but you cannot have this much value in another $90 motherboard.
Size: ATX
CPU Interface: AM4
Chipset: AMD B350
Memory Slots (DDR4): Four DDR4, Supporting 64GB, Dual ChannelUp to 3200 MHz
Video Outputs: HDMI 1.4, DVI-D, VGA
---
Best Budget Intel Motherboard: MSI Z370-A PRO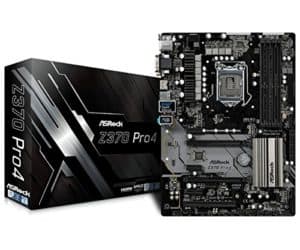 Despite the massive improvements on the Intel's 8th gen CPUs, Intel's Z370 motherboards took a long time to become widely available and affordable. If you are looking to build a PC with an i3 8100 or i5 8400, Z370 offers enough for its price range. It supports DDR4 Memory with up to 4000+(OC) MHz and AMD 2-Way Crossfire, has two full-speed M.2 port for NVMe SSDs, and USB 3.1 Gen 2 is present. If you are not planning to use SLI in the future, MSI Z370-A PRO is a strong budget choice for the Intel side.3.
Size: ATX
CPU Interface: LGA 1151
Chipset: Intel® Z370
Memory Slots (DDR4): 4 x DDR4 memory slots, support up to 64G
Dual channel memory architecture
Supports non-ECC, un-buffered memory
Supports Intel® Extreme Memory Profile (XMP)
Video Outputs: DisplayPort, DVI-D, VGA
---
ASUS is one of the best brands in the motherboard industry and even after some time, Prime X370-Pro remains as one of the highest value AMD boards in the market. With its excellent UEFI BIOS design, low power consumption, Realtek ALC1220 audio codec, plenty of USB 3.1 ports, 8 SATA ports coupled with the M.2 port and overclocking capabilities, it is one of the best choices for its price range for AMD users.
Size: ATX
CPU Interface: AM4
Chipset: AMD X370
Memory Slots (DDR4): 4 x DIMM, Max. 64GB, DDR4
Video Outputs: 1 x DisplayPort, 1 x HDMI
---
Gigabyte really surprised the market lately with their competitive moves as the top gaming motherboard maker in the market. Their gamer-focused boards really pushed the limits of their price range and featured high-end specifications on the lower budget range. Gigabyte AX370 Aorus Gaming 5 is an example of that. With features such as Intel Wi-Fi and Ethernet, a not-overdone RGB lighting, 3 M.2 slots, both SLI and CrossFire support and ALC1220 audio, Z370 Aorus Gaming 5 has a great value for those seeking to utilize an 8th gen Intel processor.
Size: ATX
CPU Interface: LGA 1151
Chipset: Intel® Z370
Memory Slots (DDR4): 4 x DDR4 DIMM sockets supporting up to 64 GB of system memory, Dual channel memory architecture
Video Outputs: DisplayPort 1.2, HDMI 1.5. Best High-End AMD Motherboard: Asus ROG STRIX X470-F
I said it before in this article: When it comes to motherboards, especially gaming-oriented, you don't need to spend a lot of money to get a great performance. While there are a lot of better and higher-end boards in the market, they are way more expensive and even a high-end gamer will not need that many ports and features and the money saved can be used to get a better GPU or CPU. Asus ROG STRIX X470-F ticks almost every box for $215: an abundance o USB ports both internally and externally (including Type-C), AMD X370 chipset, 6 SATA ports, 2 M.2 slots, RGB lighting, 2-way SLI and 3-way Crossfire support and many more. It is the perfect motherboard for your Ryzen 7 2700X.
Size: ATX
CPU Interface: AM4
Chipset: X470
Memory Slots (DDR4): 4 x DIMM, Max. 64GB, DDR4
Video Outputs: 1 x DisplayPort, 1 x HDMI
---
Gigabyte's Aorus Gaming returns as our final pick with its package of features and great aesthetic. Great RGB lighting, four-way GPU support for Nvidia or AMD cards, 3 M.2 slots with PCIe Gen3 x4 interface, 8 x DIMM up to 128GB capacity, Dual Armor and Ultra Durable design, the top-of-the-line audio engine Sound BlasterX 720°… We would be here all day if I were to list all the features. Its X299 chipset is made to handle Intel's Skylake-X and Kaby Lake-X processors for the true high-end performance. If you are looking to build a future-proof PC that will endure at least 5-7 years, Gigabyte X299 Aorus Gaming 7 is a great money-no-object choice.
Size: ATX
CPU Interface: LGA 2066
Chipset: Intel X299
Memory Slots (DDR4): 8 x DDR4 DIMM sockets supporting up to 128 GB of system memory.
4 x DDR4 DIMM sockets supporting up to 64 GB of system memory.
---
Conclusion:
So these are our picks for the best motherboards for all budget ranges. Choosing a board is often times the most complicated stage of building a PC. Since it is the brain of your computer, you need to consider many more things while trying to keep your money in your pocket and not run into any compatibility issues. We hope our list helped you make your choice and if we missed any great boards, let us know.