We all know that Microsoft Corporation developed the Windows OS. There is only one interface presents that you can choose in every version of Windows. It doesn't matter if it is Windows 7, 8, 10…
But if we want to change the background, we can easily apply any wallpaper that we wish to. By doing that, we can only change the background while the interface will stay the same.
However, there are some things that you can download such as skins for Rainmeter. This software that will help you apply themes on your PC. It doesn't matter which version of OS you have; there are lots of ways to do it.
We have to understand how to work with RainMeter skins and how to apply it on PC. Many users are already frustrated because of old themes, and there is no option of changing the interface for PC users.
What is RainMeter?
RainMeter is one of the most popular software that you can choose so that you could change the skin in your Windows interface. In the same time, you will turn app icons, battery meter, media player, Wi-Fi and much more.
As soon as you install the theme, it will change the visual experience of your Windows interface. Therefore, you have to install and download RainMeter on your PC. You can do that on their official website.
RainMeter Best Skins & Themes
---
1. Darkness Falls
If you are a fan of dark scenery and night view theme that will completely change your interface, you should change this great RainMeter skin.
You can enjoy in dark mode of widgets, wallpapers, icons and everything will change accordingly. The best thing about it is that you will get on/off button next to icon notifications.
You will get amazing visual experience, and it is famous because you can add customized widgets that will look perfect.
---
2. Windows 2019
One of the most popular RainMeter skins is Windows 2019. This way, you will get the best icon pack with the quick notification bar. You can see feeds, news, and weather update and music control.
The main reason why you should choose this particular skin is that it will provide you perfect arrangement on your desktop screen which is far more convenient than traditional one.
You can choose the customized icon that will change the look of your entire Windows. In case that you keep your PC connected to the web, you will get many live notifications such as events, weather, mail and much more.
---
3. Battlefield 3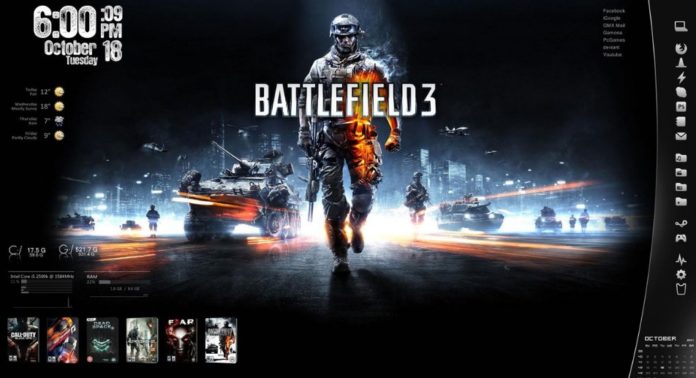 This particular theme is one of the most popular. You will be able to enjoy your new appearance. You will get the custom sidebar on the right side of the window.
On that bar, you can easily insert favorite shortcut or app that you need always.
You will get a customized clock with date widget and live weather updates. You can also access all shortcuts that you need from desktop screen.
In case that you want to enjoy in custom PC that will resemble your favorite first-action shooter, you should choose this particular theme.
---
4. Obsidian
Finally, the user-friendly solution for you interface is closer than you think. It is the most organized RainMeter skin. It will create step structure similar as in any PC screen, but it will arrange only useful widgets and icons on the main screen.
At the same time, the visual of your screen will look like architecture model and every app will be inside the structure. You can arrange block by your style so that you can access them more convenient.
It is one of the best looks that you will get on your PC.
---
5. Mass Effect Skin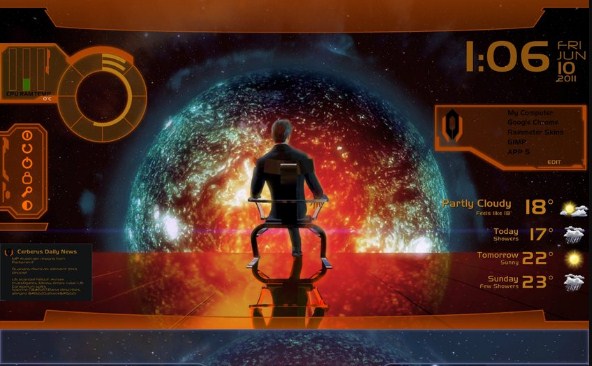 This particular skin will provide your PC and desktop aero effect that will change entire appearance. You can apply it once so that you can get completely different visual experience. You remember those wallpapers that we used before with similar features.
However, this particular theme will now only fulfill your need to enjoy in perfect picture. The overall look changes, too, such as background, folder style, icons and much more.
You can use this particular skin in case that you want to change the entire appearance of your windows thoroughly. You will get numerous widgets such as music player, date, time, weather and much more.
---
6. Horde
Horde is one of the best classic themes that will affect your entire PC interface. There is nothing revolutionary about this particular skin pack. In case that you don't want to use the same classic style on your PC, you will enjoy in this particular one.
You will get quick app launching with lots of user-friendly features that will allow you to customize everything on your desktop, from clock, widgets, weather to icons and folders.
---
7. End of the World
This is one of the best imagination themes from RainMeter library that will change your desktop to resemble the End of the World theme.
It will provide you imagination scenery where you can look entire world destroyed forever. Of course, this is not anything that we heard before. Everything will change accordingly/
Therefore, you will find backgrounds of the earth with perfect looks and completely different widgets, clock, icons and other add-ons that will keep you involved.
---
8. JARVIS And SHIELD
In case that you are a fan of Marvel Cinematic Universe or just Iron Man, you will enjoy this fantastic RainMeter skin.
This is one of the best skins for Windows, and it will make your computer resemble like JARVIS computer.
---
9. My Rainmeter Desktop
If you are a fan of the universe and everything that goes with it, you will enjoy this particular effect that will ultimately change your Windows theme. It consists of numerous stars, planets, moon, sun and much more.
You can apply the content so that you can change the visual effects on your PC and customize player, widget, and screen icons through RainMeter software.
---
10. Pog Pack
This particular skin will provide you instrument cluster type images and background to your desktop area. It means that you will enjoy in digital and analog view in combination with a  single screen that will give you an entirely different perspective of the screen.
You just have to install it on your PC, and you will be able to enjoy amazing visual effects. It is entirely free to download for both laptop and desktop computers.
---
11. ABP
This particular theme is perfect because it will give you block type of interface as well as all notifications that you need on screen. The best thing about it is that all notifications, information, and icons are categorized in segmented form.
You can easily access your PC without any additional problem. It doesn't matter if you are an advanced user or beginner. You will get live notifications also. It will help you replace the traditional screen with one of the best interfaces and RainMeter skins available on the market.
---
12. Space
If you expected anything else apart from what name says, you would be disappointed. The title of the skin refers that you will enjoy in space-related and universe visual effects on your screen. It is a perfect and refreshing surface that will give you the possibility to enjoy in dark surroundings especially.
The effects will get you in deep space with numerous features that will allow you to customize widgets, background, icons, folders, weather and much more. Everything will be in space style, which is the main point of the theme in the first place.
---
13. Switching
This particular theme contains one of the best user interfaces that you will get. It is simple and classic. You just have to install it on PC and enjoy a fantastic performance.
If you are a fan of classic and simple style that is user-friendly and comfortable to watch, you should choose this particular one. You will get the possibility to customize taskbar that will be on the top of your screen.
You can also see other notifications such as Wi-Fi, battery, weather and much more in one place.
---
14. Galaxy Suite Rainmeter
This particular theme will provide you everything that you would expect from its name. Surprising effects of galaxy background with interface moments that will keep you excited all the way.
This is also a universe related theme that will provide you the effects that will take you back in deep space. However, it is perfect because it will quickly change all your widgets, folders, icons and much more.
---
15. Encoded
This particular RainMeter interface will provide you a combination of white, black, gray and red interface that will make it one of the most beautiful in the world for most Windows users. It is artificial skin that will provide your widgets with the same color scheme.
You can also enjoy in music player widget where you can change, play and pause the track instantly. You will be able to add more widgets in case that you want to do it.
---
16. Pileus Suite
Pileus Suite is the perfect theme for you if you want to enjoy in artistic and colorful effects with icons and widgets on your PC screen. The whole desktop is entirely covered with a painted view.
You can easily access icons and apps that look like the prismatic picture. At the same time, CPU usage looks like graph effects, and it will change your entire perspective of the screen. You can enjoy all relevant features that you need.
---
17. Eker Lina Rainmeter
This particular RainMeter theme will provide you greenish effects in combination with crystal clean visually of anything that goes around on your desktop. You can customize every single widget on your screen.
Some widgets have a particular black color that will provide you perfect lock especially when you combine it with light color wallpaper that will stand in the background.
You can quickly add CPU status, weather, and time on one screen. There are also ways to customize colors and to create widgets in your background.
---
18. Moon Glow
The best way to get a natural effect on your screen is to download and install Moon Glow. This particular RainMeter skin will provide you perfect and cool screen widgets that will change your entire appearance of the screen.
You can see whether temperature, condition, time, date and live notification system, which are the reason why people decide to, use it, apart from beauty.
You can easily save essential notes on the desktop and access it in a matter of seconds.
---
19. Morph
If you want to achieve a combination of abstraction and the classic effect of widget designs you have to try Morph skin. It will arrange your icons like structure in a sequence with a shelf.
The default structure is beautiful and friendly, but you will still be able to change it and to customize it according to your style and choice.
There are all crucial widgets available on the single screen
---
20. Before Dawn
There are numerous effects available through RainMeter, but this particular one is one of the freshest and most cooling impacts that will get you right next to Before Dawn. The skin is quite dull. You will get all information and notification as well as live widgets on the main screen.
You can get all relevant things in fronts of you such as memory space, system status and everything from one single bar. Handling it on both laptop and desktop PC is simple.
---
21. Razor
There are lots of effects that you can download directly from RainMeter database, but this particular one will provide you simple and clear desktop with a live screen that looks like Razor.
The best thing about it is that you will get completely different and fresh look that you can handle as much as you can. On the top view, you will see date and time, and status of PC.
All icons will change in different look and design so that you could feel much more comfortable.
---
22. Orange Glow
If you want to find the perfect RainMeter theme that will look like an orange with dark effect than this is the perfect one for you. You will get entire desktop rearranged with frequently-used widgets and apps.
The color combination is fantastic and the main reason why people choose to download it. However, you can customize the color by creating your specter.
---
23. Raleway Skin
We have to mention this nature-based theme with amazing and straightforward interface filled with all crucial widgets on the desktop screen. It will provide you with a classic and straightforward view of your screen and great mood every time you see it.
You can enjoy live notification and weather through a single screen. It will change the appearance of all icons on your desktop screen.
---
24. Simple Dock [Rainmeter Clock Skin]
Simple Dock will create similar creative perspective for your desktop screen where you can select which app and icon will be right in front of you so that you can launch them instantly.
You can customize look and change the number of icons and app through the single bar. That way you don't have to jump around and have the hassle when you are searching the favorite app.
At the same time, you will get the date and clock widget in the middle of the screen.
---
25. i2 bar
This particular theme will provide you with a theoretical perspective of your desktop with visual effects as well as black and white combination. It is perfect for stylish people, primarily because of the fantastic bottom and top taskbar.
You can customize the bar with numerous icons and themes that you can implement inside. The bar contains Wi-Fi status, battery status, temperature and much more at once place.
You can instantly access your favorite app in a matter of seconds.
---
How To Install Rainmeter Skins or Themes
There are some steps that you have to know when it comes to installing the RainMeter theme on PC. We are going to present you thorough guide how to do it:
Note: The main thing that you need is Windows 7 or upper so that you can be eligible for installing this theme.
First, you have to download RainMeter from the link that we have presented you above and install it on PC.

Now, the idea is to choose your theme from the thorough skill list that we are going to list you below.

You will download ZIP file, and you have to copy it inside the folder where you have installed RainMeter

Now you can restart the RainMeter app and right click on it. Select Config. You will get new theme, and the mission is over

You will have the unique aesthetical perspective of your Windows OS.
Conclusion:
We have presented you 25 best RainMeter Skins or Themes so that you can completely change your desktop and visual appearance of your Windows. It is essential to change it once in a while so that you can feel like a person while using it.
We use the same theme for years; now it is time to create something different.