A Way Out takes co-op gaming and puts a fresh and innovative new perspective on it. From its dynamic split-screen that shifts and changes throughout the game, to its laser focus on co-op (there is no single-player option at all). A Way Out offers exciting action and a dramatic prison-break narrative. It's a must-play for any gamer that loves co-op gaming and for anyone who has someone they play games with regularly.
A Way Out available on Platforms: PlayStation 4, Xbox One, Microsoft Windows
Similar Games Like A Way Out
Played A Way Out and craving more co-op fun? Or simply looking for something a bit different to play with your significant other or friend? Here are 8 games that are scratch a similar itch.
1. Brothers: A Tale of Two Sons
If you enjoyed A Way Out, you might want to check out Hazelight's previous game, the 2013 indie darling Brothers: A Tale of Two Sons. A Way Out effectively continues and expands what Brothers tried to do but on a grander scale and a bigger budget.
Brothers tell the charming and heart-wrenching tale of (you guessed it) two brothers as they traverse a harsh and unforgiving fantasy land. The game relies heavily on the boys working together to overcome obstacles in their path and features a unique control scheme in which each character is controlled with the respective thumbsticks, creating a unique bond between the player and the characters, who are effectively tethered by the controls.
Although it's not a co-op game, it's an interesting game that puts a spin on two characters working together in a video game. It's a neat game and a fairly short one, and if you enjoyed A Way Out it's certainly worth checking out what game director Josef Fares worked on previously.
Platforms: PC, PS3, PS4, PSP, Xbox One, Xbox 360, iOS, Windows Phone, Android
---
2. Beyond Two Souls
Quantic Dream's Beyond Two Souls is a unique adventure game with a narrative focus. It tells the similar underdog tale of Jodie, a young girl who is connected to a mysterious spirit, Aiden. Together they must survive as they are continually pursued and harassed by government forces, the police, and teenage bullies.
The main reason it is on this list, however, is because of its co-op feature. Beyond Two Souls offers a mode where one player controls Jodie and the other controls Aiden (who is controlled by the player anyway). It's a unique and interesting take on co-op gaming that offers a similar collaborative experience to A Way Out.
It's a fun and interesting game anyway, but with it's co-op feature it's sure to be worth checking out if you enjoyed A Way Out.
Platforms: PS3, PS4
---
3. Torchlight
Runic Games' Diablo-like loot-driven action-RPG is a great co-op game that can be a blast to play with friends. Although not a narrative-focused game like A Way Out, Torchlight is a fun and exciting co-op adventure that has the potential to last dozens of hours.
With its colourful art style, satisfying combat and rewarding loot system, Torchlight is a ton of fun to play solo, but it truly shines as a co-op game enjoyed with friends on a friday night. Buckle up and get hunting that loot!
Torchlight 2 is also a great game.
Platforms: PC, Mac, Linux, Xbox Live
---
4. Diablo 3
If Torchlight isn't up your alley and you're looking for the original loot experience, Diablo 3 is just what you're looking for. The third installation in Blizzard's long-running loot-grinding action-RPG, Diablo 3 offers a fun and fast-paced experience for anyone looking to slay monsters and get that precious loot.
Although the game had a notoriously shaky launch, and a controversial first couple of years, the game has undergone some dramatic changes and now barely resembles the uneven and overly-grindy game that was centred around a real money auction house, where players could trade gear and items for real-life currencies.
Diablo 3 in its current state is a fun and enjoyable game best experienced with friends. With it's Reaper of Souls expansion and it's recently-released Rise of the Necromancer pack, it's loaded with content to last you and your friends potentially hundreds of hours. And, hey, there are also some pretty great console versions available now, too.
Platforms: PC, Mac, PS3, PS4, Xbox 360, Xbox One
Also Read: 20 Games like Diablo for Android, PC, & PS4 [2018]
---
5. Borderlands 2
Borderlands takes the addictive and rewarding loot-driven gameplay of Diablo and translates it to a tight, fast-paced shooter with a flashy art style, quirky and light-hearted writing and a ton of replay value.
Another game that can be played solo but is far more enjoyable playing with friends, Borderlands 2 is a blast to play for hours on end with your friends and loved ones. It's lengthy campaign, open world, endless side quests, and large variety of DLC expansions offer an enormous amount of gameplay to enjoy. The variety of playable classes also help to give it added replay value and depth.
If you haven't played Borderlands 2 already and you love co-op gaming then what are you doing? Go play it!
Platforms: PC, PS3, PS4, PS Vita, Xbox 360, Xbox One, Mac, Linux
See Also: 15 Games like Borderlands (2018) – Best Action role-playing FPS
---
6. Chronicles of Riddick: Escape From Butcher Bay
Although not a co-op game and nothing like the other games on this list, A Way Out's prison setting always reminded me of Starbreeze Studios' 2004 stealth-action game based on the Vin Diesel sci-fi movies (Pitch Black is a great film).
Still one of the best prison games out there in my opinion, Chronicles of Riddick: Escape From Butcher Bay offers a captivating and exciting prison break narrative in which you play as space-badass Vin Diesel. You're not in prison for the whole game, but the early parts of the game in which you are are some of the best moments in the game and offer a truly unique experience that no other game has tackled.
Prison games are still a fairly untapped concept, it seems.
Starbreeze Studios is also Josef Fares' previous home and the studio that made Brothers: A Tale of Two Sons, so that's pretty cool, too.
Platforms: PC, Xbox
---
7. The Escapists
In a similar vein to Chronicles of Riddick, The Escapists is an excellent prison game that's wonderfully quirky, unique and captivating. It features a combination of crafting, scheming and making the right allies in order to escape from prison as successfully as you can. It may be a difficult task, but it certainly can be done.
The game also features a variety of different prison maps to tackle that all have different layouts and varying difficulties so there's plenty to sink your prison-breaking teeth into.
It should be noted that The Escapists is not a co-op game, though.
The Escapists 2 is also now available.
Platforms: Android, Xbox One, PlayStation 4, Xbox 360, iOS, PC, Mac, Linux
---
8. Monaco: What's Yours Is Mine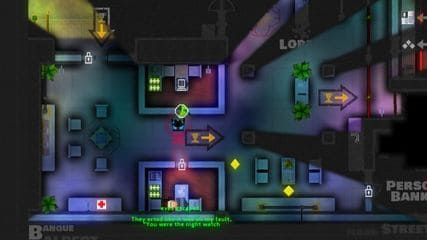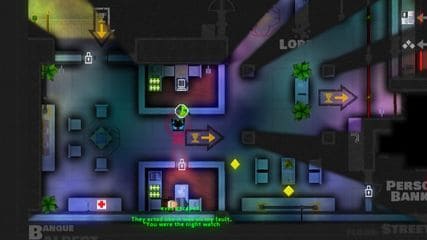 Monaco is a stylish and minimalist game that allows up to four players to attempt heists and robberies. It's kind of like the Payday games abstracted into a weird and unique style.
Success is highly dependant on communication, teamwork and every player performing the tasks that only their character can do. It's a cool and fast-paced game that can get a little hectic, especially if things go south.
It's also got a thumping soundtrack. Check it out if you're looking for some slick co-op heist action.
Platforms: PC, Mac, Linux, Xbox 360
---
9. Payday 2
Payday 2 is a great co-op game. A game that is playable solo with AI companions but intended to be enjoyed with friends online. Take a team of four players and try to make as much money pulling off heists on banks, jewellry stores, and more.
Guns blazing or silent and deadly? The choice is yours, but you'll find that each method has its own unique risks. The stealthy approach might seem like a good choice, but if you go in looking to avoid a fight and it all kicks off then you might find yourself in a bad spot. Check out the payday 2 mods if you're looking for more ways to extend the game
These are the kinds of situations that make Payday 2 an exciting and nerve-wracking experience. It's a blast to play and offers a ton of replay value. If you're looking for some co-op gameplay, you can't go wrong with Payday.
Platforms: PlayStation 4, Nintendo Switch, Xbox One, PlayStation 3, Xbox 360, Microsoft Windows, Linux
---
10. Portal 2
Portal is a brilliant puzzle game series that everyone needs to play on its own, but the co-op feature that the second game added makes it an awesome game to enjoy with your +1 of choice.
The game features an entirely unique co-op campaign separate from the single-player story. It's full of classically challenging Portal puzzles that depend on teamwork, communication and a logical brain. It's a ton of fun to puzzle-solve with a friend, and the co-op campaign offers plenty of unique challenges to keep you entertained for hours.
Platforms: PlayStation 3, Xbox 360, Microsoft Windows, Mac, Linux
---
11. Left 4 Dead
An iconic co-op game and arguably the game responsible for making co-op gaming as popular as it is. It's an oldie, but you can't go wrong with some Left 4 Dead.
You might have already played it (if you haven't and you like co-op gaming, then what are you doing?) but it's still great fun to play in 2018. There's nothing quite like grabbing a few friends and slaying hordes of zombies.
It may seem somewhat dated at this point, and a new instalment is long overdue, but it's still belongs on any list of co-op games.
Platforms: PC, Mac, Xbox 360
---
12. Warhammer: End Times – Vermintide
A four-player game in the vein of Left 4 Dead, Vermintide offers a unique hack 'n' slashing experience where players fight through hordes of fodder enemies to get through levels, take out bosses, and complete objectives.
It's a blast to play with friends, and there's enough content and variety to keep you gaming into the late hours.
Platforms: PS4, Xbox One, PC
---
13. Borderlands The Pre-Sequel
Borderlands is a great co-op franchise. Games that can be enjoyed solo but are far more enjoyable with one or more friends. Its unique blend of FPS action and RPG mechanics make it an exciting, rewarding and captivating experience.
There's a ton of content in The Pre-Sequel, and a few neat gimmicks that change things up a bit from the previous Borderlands games. Alongside the game's solid length, there's the usual Borderlands barrage of DLC expansions to keep you going if you're looking for more.
A ton of fun and irresistibly fun and charming, Borderlands The Pre-Sequel is the perfect game to enjoy with friends.
Platforms: PC, Mac, PS4, Xbox One, PS3, Xbox 360, Linux
---
14. Divinity: Original Sin 2
Divinity: Original Sin 2 is a deep, intense and rewarding RPG inspired by the role-playing games of yesteryear. It's complexity may be off-putting to some, but if you give it the time it needs it can be an amazing experience.
Best of all, the game is playable entirely in co-op. Both players make a character and you can divide up who controls the other characters in your party, making it more accessible to players who may be less familiar with these kinds of games.
The game uses an XCOM-esque turn-based combat system where spells and abilities greatly impact the environment around you. The environment around you is as much your weapon as the sword in your hand or the fireball in your spellbook. Its dynamic and unique volatility can make for some truly chaotic moments that no other games can replicate.
It may not be for everyone, but if you're willing to try it it could be a co-op experience unlike anything else.
Platforms: PC (coming to PS4 and Xbox One in August)
---
15. Halo Master Chief Collection
Although the Master Chief Collection for Xbox One ran into a number of pretty major issues when it launched back in 2014, the huge 4 game Halo anthology collection (5 including the DLC Halo 3: ODST) is now in a much better state.
In its fixed state it offers a tremendous amount of content, all of which is enjoyable with friends. The four game's campaigns are a blast to play with friends, the game's competitive multiplayer never gets old, whilst the various custom games, forge modes, and more offer even more variety of fun to be had.
If you've never played a Halo game, then the Master Chief Collection is the perfect starting point. Featuring the classic Halo games beloved by fans, you'll never get bored with this collection.
Platforms: Xbox One
Let us know if you think we missed anything in the comments below!