Check out our collection of best action RPGs games like Mass Effect for Android, PC & PS4. You can play on Windows, PlayStation, MacOS and on Steam.
Here this article on Lyncconf Games Like Category brings you best RPG games like mass effect, so players are ready to get the same mass effect gameplay in other encouragements with several other characters via these games. The game brings you a science fiction theme, and the storylines remain the action-originated where third-person shooter takes place. The series goes further and so the levels that give you plenty of depth with somewhat realistic looking characters.
Here you are 'Commander Shepard' who is ready to begin the adventure that is based on destroying the Reapers in the galaxy while saving his people. The combats are very much appealing as there is a tactical shooter system where you choose your team and enter the war in them. This war Commander Shepard surely motivates you very much. 
This game is available for the platforms: Xbox 360, Microsoft Windows, iOS, PlayStation 3, 4, Android, Windows Phone, Wii U, Xbox One
They have recently released Mass Effect: Andromeda on 17 Oct 2017. Check out their other release.
Year
Title
Developer
2007
Mass Effect
BioWare
2009
Mass Effect Galaxy
2010
Mass Effect 2
2012
Mass Effect Infiltrator
IronMonkey Studios
Mass Effect 3
BioWare
Mass Effect Datapad
2017
Mass Effect: Andromeda
Mass Effect: Andromeda APEX HQ
15 Games like Mass Effect 
Now it's time to feel the motivation in other characters that these fifteen mentioned games have. Let's see how perfect these games are that claim to be the mass effect like games.
---
#1 Skyrim
The first one and the most successful game for the genre is the Skyrim that has built a giant reputation among the fans. In the game, you have access to a vast world where customizations are always available in a large variety. In Skyrim, you are a hero that is on the mission to save the world. Now you may be thinking how? So you are the Dragonborn or at least perform the role, and this character can absorb all the souls of dead dragons. This way you diminish the appearance of those dragons from the world and make it a safe place to live.
Platforms: PlayStation 4, Nintendo Switch, Xbox One, PlayStation 3, Xbox 360, Microsoft Windows
Check out some open world rpg games like Skyrim with best Skyrim console commands & cheats
---
Again a mind-blowing game mostly because of the visuals and characters. The locations are tremendous enough to make you addicted to trying the gameplay. There are several fun activities that come in the form of adventure. You can explore beautiful landscapes, participate in combats, and even spend some romantic time. So who doesn't want to try it on their Xbox One or PS4? There are always improvements in the game that makes it even more engaging and worth playing. The game is always loved for the customization where you can create human, dwarf, elf, choose the gender, modify the look, and go ahead with other fantastic options. 
Platforms: PlayStation 4, Xbox One, PlayStation 3, Xbox 360, Microsoft Windows
---
One of the superb mass effect like games that offer the role-playing and the story encounters the action-oriented events. So in the Fallout, you are in the giant land that takes you in the post-apocalyptic world. There are various versions available for the game, and each one adds new locations, characters, options for battles and customizations, etc. the content is very much strong as there is always something to do and you can never go out of content. Your mission is to save the human race from the nuclear war by acting as their shield. The more quests you follow, the more you get to know the game.
Platforms: Xbox 360, Xbox One, PlayStation 3, Microsoft Windows
---
#4 Deus Ex: Human Revolution
Another one in the list for the same genre like mass effect so you don't miss the gameplay you are addicted to. Since 2011, the game is set on high that allows players to access on Windows, PS3 and Xbox 360. The instructions are very clear so even if you haven't tried it yet you will have no difficulty in playing this one. You are named as Adam Jensen who works in the extraordinary company where humans get a new life by replacing the body parts with artificial and powerful alternatives. The modification has been performed on you too, so you are now an enhanced version of human completing all the quests.
Platforms: Microsoft Windows, OS X, PlayStation 3, Wii U, Xbox 360
---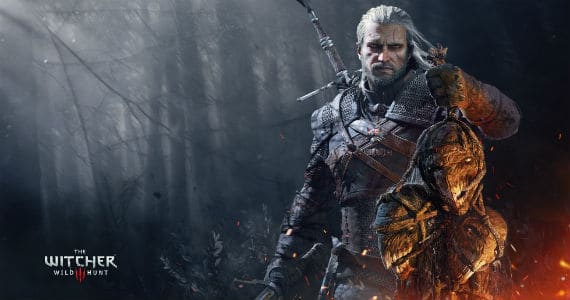 This one creates the ultimate aura, and the genre makes it one of the games similar to mass effect. The franchise has been doing really well as the game always gets success and millions of fans. So those who want to experience an entirely new level of action role-playing are welcomed in the world of The Witcher 3: Wild Hunt. The landscapes, combats, missions, investigations, weapons, characters and all make the atmosphere realistic and an ultra-adventurous experience. The story takes the life of Geralt forward in this version and gets him new missions as he makes steps. You are the powerful witcher that hunts monster or witches as his profession. Going through several levels landscapes, he always tries to achieve the motive and kill off all the monsters. You can make your game more interestng by using best witcher 3 mods.
Platforms: PlayStation 4, Xbox One, Microsoft Windows
---
#6 Star Wars II
The sequel starts when the first one gets ended but following the same storyline but improved graphics and customizations. The game takes you as per the concept where you are Jedi Knight who now wakes up from unconsciousness and ready to take revenge from the enemy who reported you to this stage of life. If you have tried the previous version, you will surely notice some great enhancements for the locations, races, weapons, and other factors. The game also provides some mini-games which make the experience more interesting and engaging. These games include bike racing, card playing, etc.
Platforms: Game Boy Advance, GameCube, Microsoft Windows, Nintendo DS, OS X, PlayStation 2 & Portable, Xbox 360
---
#7 Kingdoms of Amalur: Reckoning
If you have tried playing that Elder Scrolls series then it is going to be a familiar one or just like the mass effect, but it's improved in several aspects. The combat system so efficient that can be played on Windows, Xbox 360 and PS3. For its concept and mechanics it comes among these games similar to mass effect that bring you the action RPG genre. You can choose from our races and customization is available for the character with several options. You get to choose your abilities or skills, decorate your avatar, and get in the impressive play style.
Platforms: PlayStation 3, Xbox 360, Microsoft Windows
---
#8 Star Wars: Knights of the Old Republic
Since 2003 the game is under control of BioWare, and it features you an RPG mode. The game takes you in the Star Wars universe, and for the devices, it is accessible via Windows, Xbox, and iOS. So this is a space-oriented game that offers the same gameplay just the characters and themes are different, but this all looks so cool and unique. If you are a fan of Star Wars franchise, then this is a must-have the game. Teresa classes are there to choose: soldier, scout or scoundrel, do plenty of changes and be ready in the universe.
Platforms: Xbox; Windows; Mac OS X; iOS; Android
---
#9 Alpha Protocol
Alpha protocol brings you a great blend of action, stealth, and role-playing as well, so combats are going to be extraordinary here. Michael Thornton is the main character who is an agent and deals with all the corruption and terrorists. The story takes you forward giving you several opportunities to go deep down in the gameplay and enjoy the concept. All the missions are your role oriented that makes you feel you're following your mission being the agent. The game can be played on Windows, Xbox 360 and PS3, there can be other platforms too, but for now, you just have to wait.
Platforms: PlayStation 3, Xbox 360, Microsoft Windows
---
#10 Baldur's Gate
The game takes the role-playing as the main genre that sets you in a fantasy environment that features several themes including forests, mountains, dungeons, even cities, and others. The visuals look amazing with proper dialogues that arrive at just the perfect moment. Also, the quests are worth enjoying that make you more naked in the gameplay. Also, you can experience days and nights to give the players a realistic feel while being in the game. There is not just night all around but also the surroundings get its effects such as closed shops and increased enemies.
Platforms: Windows, Playstation 2, Xbox, Gamecube, macOS, iOS, Android
---
#11 Jade Empire
An action and RPG game where you feel the aura of old school China. So this is going to be a unique experience where just concept is same, but other things are very much different. You are a martial art student in the Jade Empire under your master. Now everything goes happily until your empire is attacked by a mysterious force and now you have to save your world from these happenings. There are several levels where you find combats with a different enemy, and also you can choose the specific gender from male or female. This ay fighting off these characters is so much excitement with other fantastic factors.
Platforms: Xbox, Android, Xbox 360, Microsoft Windows, iOS, Macintosh operating systems
---
#12 Dragon Age: Origins
Another one among the mass effect alternatives is the Dragon Age series. Players start with choosing the class and go further with exploring the kingdom. Customizations are available for your character so you can mix it with your favorite looks and get a desired one. Also, the races and classes wait for you to choose so you can start your adventure and enjoy the fantasy world. All the mechanics are efficient and can be learned in just no time, so the adventure stays nice while giving you the allowance of playing on Windows, Mac, PS3 and Xbox 360.
Platforms: PlayStation 3, Xbox 360, Microsoft Windows, Macintosh operating systems
---
#13 Baldur's Gate II
Just like the previous version the second one follows the concept. As it's the sequel so it stays more improved and advanced that you can feel in character, combats, mechanics, and visuals. The game gets you in a somewhat ancient era that is called the land of Amn. Also it can be felt like the Dungeons & Dragons series with several quests that are enough to keep you engaged for hours. There are six characters to choose, and it begins right where the first one ends. If you feel alone while playing, then you can pick up an extra character that goes on with you throughout the game.
Platforms: Android, Microsoft Windows, iOS, Linux
---
#14 Fallout: New Vegas
Fallout series offers the most fantastic role-playing where content never gets down, and you always have a lot to explore while solving the quests. Where enemies are everywhere and your weapons is the only strength. There are always new quests and themes, so you get the concept as you walk further. It is a 2010 released gameplay in the Fallout series so if you have played any previous version then it is an advanced one to the prior plays. This is a post-apocalyptic environment where you are set for delivering a mysterious package crossing that wasteland where death is waiting for you.
Platforms: Xbox 360, PlayStation 3, Microsoft Windows
---
#15 Fallout 4
This series has really got some serious gameplay because of the sci-fi environ and concept that is deep enough. Advanced gameplay than the previous versions and here you start exploring the destructed land that is set in the year 2287. The world is destroyed as a result of the nuclear war, and now your journey starts where you are on the mission to search for your family. Dialogues are proper that follows your character and appears whenever necessary. You find more if you explore more with the quests as the land is full of mysteries that you need to achieve out.
Platforms: PlayStation 4, Xbox One, Microsoft Windows
So this way the game really deserves being among the mass effect alternatives.
---
Minimum System requirements for Mass Effect:
OS – Windows XP SP3/Vista SP1, Win 7
Supported chipsets: NVIDIA 7900 or better; ATI X1800 or better. Please note that NVIDIA GeForce 9300, 8500, 8400, and 8300 are below minimum system requirements, as are AMD/ATI Radeon HD3200, HD3300, and HD4350. Updates to your video and sound card drivers may be required.
CPU – 1.8 GHz Intel Core 2 Duo (equivalent AMD CPU)
RAM – 1GB for XP / 2GB RAM for Vista/Win 7
Disc Drive – 1x speed
Hard Drive – 15 GB of free space
Video – 256 MB* (with Pixel Shader 3.0 support)
Sound – DirectX 9.0c compatible
DirectX – DirectX 9.0c August 2009 (included)
Conclusion
Anyone who wants fantastic games like mass effect will really find something extraordinary in these games. All these match up with the mass effect, but still, all the factors are unique and set in different themes with different characters. So you can go to just anyone after reading out all those mentioned gameplays and let me know which one appeals to the most.