Action role-playing games have come a long way. From the birth of the genre to extremely detailed and open-ended games like Path of Exile, just smashing skill buttons have never been this fun. But PoE distinguishes itself with its utter depth, complexity and accessibility.
Though we have a lot of choices in the genre, Path of Exile is the undisputed king in action RPGs right now, which is developed by Grinding Gear Games. Along with its general high quality, it has the biggest and most diverse skill tree in video games to date with a creative gem system, and it is completely free. And today, we will look at the best games like Path of Exile, all of which you can buy on Steam.
What are Similar Games Like Path of Exile?
---
Diablo 3
The most recent game of the legendary hack-and-slash series that even your neighbor probably knows about, Diablo 3. Even though it became the center of criticism because of its casual gameplay, it is still a great action RPG like Path of Exile. Fast action, infinite replayability.
---
Torchlight 2
If you do not want a serious, long story and just want to enjoy a quality, short action role-playing experience, Torchlight 2 might be just for you. Its features such as replayable story, colorful graphics and 4 different classes with distinct builds will keep you busy for a long time. It also goes on sale on Steam often. Check out the best torchlight 2 mods if you're looking for more ways to extend the game
---
Grim Dawn
The game that born from Steam Early Access with the promise of doing what Diablo 3 could not, Grim Dawn. It is another ARPG similar to Path of Exile and it has major pros going for it: amazing classes and diversity with secondary classes, huge skill system and -finally- a dark world and plot, again, like PoE.
---
Warframe
Warframe isn't exactly like Path of Exile since it is not an action RPG, but it is also free on Steam, is technically an MMO and plays very much the same other than its camera angle. With dozens of different raids, missions and builds combined with fluid combat, you are in for a good free time.
We also have an article about Games like Warframe, if you are interested.
---
Diablo 2
The legend, the father of hack-and-slash games. Diablo 2 is what started the action RPG games' madness back in 2000 and it is still a gem to this day with its endless replayability and fun classes/combat. If you ever feel deprived of top-down action role-playing games, Diablo 2 will always be there for you after PoE.
---
Titan Quest: Anniversary Edition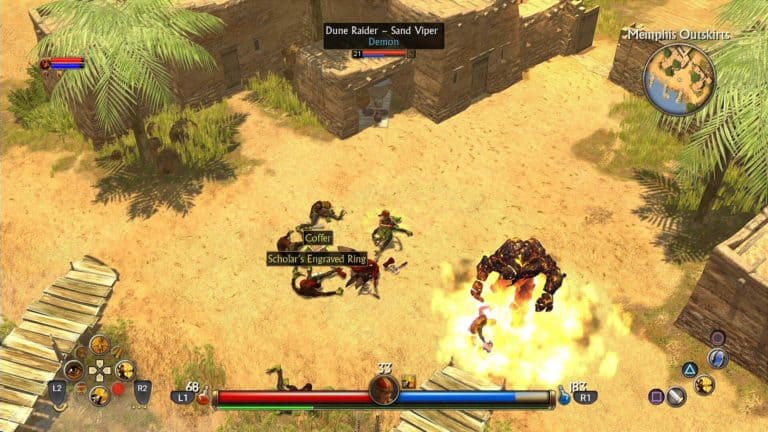 The Anniversary Edition of the acclaimed ARPG game Titan Quest came with a lot of improvements on top of the general quality of the original. Its original setting and diverse mastery system are still fun to play around with to this day, and Titan Quest even supports co-op like Path of Exile.
---
Torchlight
The first game of the Torchlight games is a strong one. While the sequel we covered above is certainly better, the initial entry is still a great ARPG all around, nailing almost everything you would expect from hack-and-slash games: Replayability, satisfying combat and amazing loot.
---
Marvel Heroes
Action RPG gameplay? Check. Marvel? Check. Over 100 heroes to choose from? Check. This is Marvel Heroes in a nutshell and if you both love ARPGs and Marvel, Marvel Heroes is a very decent free to play game like PoE with minor microtransactions and is worth your try.
---
Magicka 2
Ever wondered how magic is made? Magicka 2 teaches you! It is a top-down action game just like Path of Exile where you combine certain elements in quick succession to create a unique spell and believe me, there are a lot of them. It contains a lot of bad humor too, what else?
---
The Incredible Adventures of Van Helsing
Another excellent action RPG-style game in our list is a game based on the classic novel Dracula by Bram Stoker. What sets it apart from other titles in this list is its memorable gothic-noir universe and option to play it co-op with 3 other players.
---
Dungeon Siege II
A classic dungeon crawler RPG, Dungeon Siege II is the best game in the series with its original artwork, great soundtrack and deeply customizable characters. Its average Steam reviews should not deceive you. Although it is a rather old game, it still holds up.
---
Bastion
While there are no dungeons to conquer or loot to collect, Bastion is still a great top-down hack-and-slash game similar to Path of Exile with an amazing narrator, touching story, extremely fun combat and great soundtrack. Like all Supergiant Games games, you are missing out if you do not play it.
---
Divinity: Original Sin 2
Though it lacks the action part, Original Sin 2 is still a top-down RPG and one of the best games at that. Ithe story, characters, classes and perfectly utilized RPG elements are stunning and it can easily steal thousands of hours from your life, just like Path of Exile.
---
Victor Vran
Victor Vran is another isometric action role-playing game like PoE in which we take on the role of Victor Vran to slay demons. With its wicked demon powers, destiny cards, special moves and the way you can combine skills all come together to make for a great game you can play with your friends with its co-op feature.
---
So there you have it, our choices of best games like Path of Exile if you want to venture deeper into dungeons filled with monsters, collecting loot and gold and going for that one piece of equipment that will complete your build. These games can easily nail you in front of your PC. You can find these games on the list from their respective Steam pages. If you think we missed a great title, let us know below!