Warframe is an entire war based gameplay where combats are going in and on. Your opponents are all awake, and now you have to set your position to fight against them. Use all your power that comes in the form of weapons and tools and stay on in sci-fi inspired environment. Of course, you all know these factors about Warframe but what about knowing other games like Warframe also available on PC and Steam.
Do you feel that urge to play another game that seems familiar to Warframe but in a different challenging zone? If yes, then this place is perfect because you are going to find fifteen new games that follow the same concept as Warframe. Just like the challenges, enemies, and other odds, these games also bring you the entire data so you can read out and decide yourself which one suits you to play.
Warframe Game Details:
Platforms: Microsoft Windows (PC), PlayStation 4, Xbox One
Genre: Third-person shooter
Mode: Single-player, multiplayer
Warframe System Requirements (Minimum):
OS: Windows XP SP 3 or higher
Memory: 2 GB RAM
Processor: Intel Core 2 Duo e6400 or AMD Athlon x64 4000+ (~2.2Ghz dual-core CPU)
DirectX: 9.0c
Graphics: Nvidia GeForce 8600 GT or ATI Radeon HD 3600
Hard Drive: 5 GB free HD space
15 Amazing Warframe like Games that can Keep You Engaged for Hours
All these games introduce substantial content, enemies, defend the system, customized characters and the wars in different locations at different difficulties.
---
#1. Planet Calypso
Planet Calypso seems the familiar one because of the fighting zones it provides in the MMO mode so players can enjoy the same worlds simultaneously. Here you also earn in-game currency that you can use making any upgrades or just converting it into real money. This fantastic journey lets you explore different territories, and each of them is full of unique things that you can't imagine without entering the environs. Avatars are all customizable, and there is a lot to hunt like those monsters while doing crafting, mining in those superb looking visuals.
---
#2. Blacklight: Retribution
It is more in the robotic form among the games similar to Warframe that seems science fiction scenery naturally. The game can be enjoyed in Windows and PS4 where you aim to shoot on and on. As for the purpose, there are many weapons with several customizable options so you can have your choice of a giant shooter. It takes you into a futuristic world where you feel the advanced technology, and hence your guns and other gears are all advanced than the present era. So anyone in love with shooting modes with different powerful weapons is going to love Blacklight: Retribution after Warframe.
Platforms: PlayStation 4, Microsoft Windows
Want to lose yourself in the dragon-themed place that is situated in science fiction form? Then get on the Lost Planet 2 that has more advanced mechanics and fighting options than its previous version. It adds, even more, excitement and strategic gameplay with those unique monsters. If you have already tried the Lost Planet, then mechanics will be easier to learn. Here you find several terrains where you fight off against the monsters using different maps that take you in the warmer areas as well, and it's not limited to just cold regions.
Platforms: PlayStation 3, Xbox 360, Microsoft Windows
Another one in the list of Warframe game alternatives that takes the shooting concept in a place looks like a hell. Here your shooting skills are the only way to survive in the game and it also available that sci-fi feel. Here you find yourself in the galaxy, and there you fight against the aliens who have established their controls on the planets. Either perform it alone or get your team of 4 players. So here you visit several planets using the flying skill you get in the game and destroy all the aliens there. You need to establish several missions, and this way, protect the human race.
Platforms: PlayStation 4, PlayStation 3, PlayStation Vita, Microsoft Windows
If you want shooting all around but in colors and vibrant visuals then head to Livelock. The game depicts a very well looking environment because the environ here is just amazing and mechanics are exciting enough to try this gameplay. This colorful and sci-fi based gameplay is available for Windows, Xbox One, and PS4 as well where you clear out your way shooting all the enemies. Your character is highly customizable so that you can enjoy those heavy and powerful weapons and skills even more. You are allowed to carry three weapons with your choice of functionality, and other changes can be made by time.
Platforms: PlayStation 4, Xbox One, Microsoft Windows
If you want to feel that first-person shooter ability then Titanfall is the giant game that makes you able playing on Windows, Xbox 360 and Xbox One too. Just like the Warframe, the game introduces you an unending combat zone with efficient mechanics to learn. Due to the FPS, it has been widely loved by millions where you roam around using maps and set battles against enemies. Each battle helps you competing for a different objective that makes you even more powerful and the game an understandable place. It is a bit fast paced so if you think you can handle it then choose Titanfall as your next fantastic gameplay.
Platforms: Android, Microsoft Windows, Xbox One, Xbox 360
The world is filled up with dinosaurs that are everywhere, and your mission is to eliminate them all. The war factors make it one of the Warframe like games and it's been in records since 2012 that mixes up the FPS and sci-fi genre. Several maps have dinosaurs all over, but you also get vehicles, weapons and other help to get those monsters. The most common mode here is the survival mode in which you continuously fight off the powerful dinosaurs. As you earn experience you feel an ease to kill them but they are huge and a lot more from small raptors to flying dinosaurs.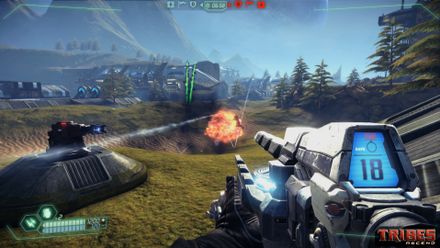 A game that allows the first person shooter mode but in a fast-paced environment. Things are quick and if you don't handle them by the time you meet fatal. It is available on Windows so having a game like this on PC with those loud woofers and highest base will surely be an experience of goosebumps and jaw-dropping moments. The game has plenty of depth, and the player can't feel out of the story. It is set in a futuristic mode that includes the modern shooting mechanics. A lot of customizations are available for both character and weapons, so get the perfect configuration and ready to enjoy the game.
Platform: Microsoft Windows
---
#9. Tom Clancy's The Division
It is a third person shooting experience that is also set in a futuristic mode where you are set in future, and things are going on there. The city is New York where you aim to rebuild the city by fidgeting against the criminal activities. Your role is in the form of an agent that is activated by the US government after the criminalism is set in the country so you can regain the peace again. You also see some of the Manhattan landscapes as the game sets you there.
Platforms: PlayStation 4, Xbox One, Microsoft Windows
It is not like those tough FPS games so those who want something casual in the FPS mode can head to Team Fortress 2 that is an improved version and comes among the games similar to warframe. It provides a team-based gameplay where your team is vital to win over the missions. As it's a team play, there are different characters that are on your team and help you in any way. The main motive is to put two teams against each other where you need to win using all those maps and modes. The teams are named as RED which is Reliable Excavation & Demolition and BLU that is Builders League United.
Platforms: Microsoft Windows, Xbox 360, PlayStation 3, Linux, Mac
The game is all about zombies and you where you are a protector and on the way you destroy them to achieve your missions. Here a team of fighters go on and fight against zombies, so the game is very much enjoyable when you play it with your friends. Or you can go solo as the game offers you a solo mode too if you don't wish to take the team play. The game is available for Windows and Mac so on the big screen it sets the entire atmosphere which seems nothing less than realistic.
Platforms: Microsoft Windows, OS X; Linux
Those who want a zombie land to survive and attack them to achieve the missions then Left 4 Dead is an amazing choice. The game allows you to enjoy it with friends, and that means a unique gameplay each time you visit here. There are several maps that you need to follow one by one as you accomplish missions. The game offers a total of 4 survivors, and all of you need to survive in that Zombies land. The personalities can be customized so you can feel a connection with them as you play. If you think you want to play alone, then don't worry as the game fills the other three spaces with the bots.
Platform(s): Microsoft Windows, Xbox 360, OS X
If you have already watched that science fiction TV show named Defiance, then the game gets easy for you. This one is set in the same storyline and characters, so all things feel familiar while having a gameplay. It is available for consoles well as windows, so whichever you get you can start playing it. It doesn't mean that watching the show is mandatory, but it gives you a pretty good idea that what's going on. And by the time you can also feel that the game is set on the same concept as Warframe so this one comes here in the list of games similar to Warframe.
Platforms: PlayStation 3, Xbox 360, Microsoft Windows
Cronix Online brings you the MMO experience that features you a unique gameplay and Korean characters. The game is an action-themed concept which seems familiar to Warframe and other action-oriented games but the content is vast here, and that is the main attraction of the game. It is one of the futuristic games, and here the game shows the world war is going due to heavy usage of resources and now it seems like a series of disastrous events. In this situation, you work as a hero choosing your favorite character and handle those wars efficiently after you know your abilities.
---
#15. Counter-Strike: Global Offensive
It comes as one of the most entertaining games similar to Warframe that is full of excitement and uniqueness. It was released in 2012 and is a First Person Shooter. It brings you the MMO experience. The game launches several environments where multiple players are allowed to enjoy the game at once. As the game is around based gameplay so if you die you have to wait until the round gets ended. In-game currency is also allowed so you can spend on upgrades and additional weapons. The game has two teams known as terrorists and counter-terrorists, and you need to choose from them. Each comes with separate weapons to defense and this way it can be said as fair game for all.
Platforms: Xbox One, Microsoft Windows, Xbox 360, PlayStation 3, Macintosh operating systems, Linux
---
Conclusion
Anyone who wants some hardcore games or first-person games like warframe then this list is entirely a blessing to you. Because these games are perfect in what they were built for and hence the gameplay is always enjoyable. So guys just pick up any of these and feel the unique world where wars are happening around.