If you desire to go back to The Sims 3 after many years, we have compiled a list of the best The Sims 3 mods for you.
Even though The Sims 3 is a classic game, it is still an old one that means some of its vanilla features can feel outdated. Here is where mods come into play. The Sims 3 has a huge modding community and if you want to visit this great simulation game after 9 years, here are the most essential The Sims 3 mods to choose from.
Also, Learn to Install Sims 3 mods
The SIMS 3 Mods to Download
---
1. MasterController
MasterController gives you the control of a lot of game mechanics. The mod contains tools for managing every Sim in your town manually. You can form relationships, customize households and change your Sims' job etc. It also has different, optional modules such as Cheats, ExpandedTattoo, Integration and Progression, all with unique features on their own.
Download here.
---
2. Tagger
This small handy The Sims 3 mod gives you the ability to tag certain Sims or groups, so you can find them a lot easier when they are not home. You can see their income, how much they are worth etc. too and all these makes managing Sims in your town significantly easier.
Grab it here.
---
3. StoryProgression
StoryProgression is undoubtedly one of the best Sims 3 mods out there. It replaces the EA story progression system and provides a lot more story options and gives you an overall better progression system. It also has tons of different add-ons that contain specific scenarios to play with or expand certain areas such as career.
Get it from here.
---
4. Overwatch
The Sims 3 was a buggy game. Sims in your world can get stuck in a lot of different ways and many game mechanics can become corrupt really fast after there are enough Sims in your town, and the game becomes unable to handle all of that after some time and this causes significant lag. Overwatch cleans all of that mess for you each night and every time you load a new save, rescuing you from a lot of headache.
Download it from here.
---
5. Woohooer
Woohooer adds various new romantic interactions between Sims. It has a lot of different modules you can optionally install. It is not mandatory and does not have a big impact on the gameplay but can provide a new experience to those looking for new "woohoo" options.
Grab it from here.
---
6. ESkin-nAtural+
Default Sim skins can get boring and start to seem bland after a while. This mod replaces the default character models with higher definition and better-looking ones. Your Sims will look like superstars after this. If you do not have a problem with the eastern-style models, install this The Sims 3 skin mod right away.
Get it from here.
---
7. Retuned Attraction System
This essential The Sims 3 mod makes some really needed changes to the game's attraction system. It makes the relationship system more realistic by adding more variables as to how two Sims get attracted to each other, other than some random numbers or skills.
Download it here.
---
8. More Traits for All Ages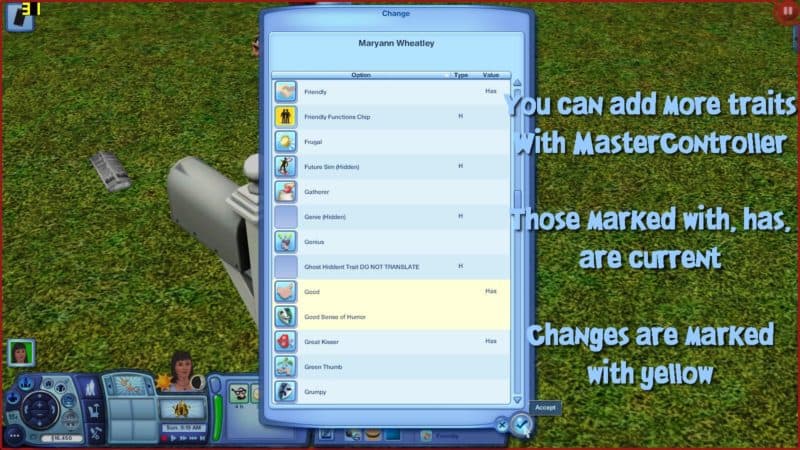 In the native game, each of your Sims is limited to just a couple of traits. While this balances things out and encourages you to play with multiple Sims, it gets boring quick and your Sims feel shallow. This mod is a great addition to The Sims 3, it lets you raise the maximum number of traits each Sims can get, which results in much more complicated and realistic Sims.
Grab it here.
---
9. Grow
One of the fundamental mods to make The Sims 3 more realistic, Grow mod makes your Sims grow gradually and slowly rather than just exploding in size in certain checkpoints in their life. Their voices can change too and they can gain weight, rather than just height.
Get it here.
---
10. Apartment mod
With the Apartmen mod, you can set up more than 1 family in one lot without the need to manage them all at once. Or you can set up the lot to look like apartments by using EA's uni locked door feature, then place a family on each separate level. This gives the game a sitcom-like feeling and can be a small, new experience.
Download it from here.
---
11. Food and Cooking Tweaks
This Sims 3 mod makes some small but necessary changes in te cooking mechanics. The base time it takes to cook is reduced in both single and group servings, there are less leftovers when your Sims do not finish their meal and their chance of cleaning up after themselves is set to %100 rather than %50. These changes makes the cooking & cleaning a lot more smoother.
Grab it from here.
---
12. The Sims 3 Hair Mods
The Sims 3, without any mods, does not have that many great hair options. If you want to check out great hair models designed by other creators and make your Sims look much more unique and stylish, head over to here, choose what you want and download the hair in your dreams.
---
13. Private Room Door
Do you want to keep your Sims family's treasures and secrets away from outsiders? Well, look no further. This Sims 3 mod adds doors that are only unlockable by the Sims that has the correct key. If you want to hide family heirlooms from other Sims and thieves, this is the mod for you.
Get it here.
---
14. Change At Home After Work
I've always disliked the fact that sims head home after work and stay in their work attire, even if they head out again after that. With this pure scripting mod, they will change into their everyday clothes upon reaching home while wearing their work attire.
Download it here.
---
15. The Normandy SR2
And as our last pick, the coolest The Sims 3 mod: The Normandy SR2. It adds the famous Normandy SR2 to the game as a house that you can move in. Everything is well implemented to the style of The Sims 3. If you are a Mass Effect fan like myself, you must install this mod.
Grab it from here.
---
SIMS 3 Hair Mods
| Mod Name | Description | Download |
| --- | --- | --- |
| Cherub Curly Hair | Clean, curly and stylish Cherub curly hair. | Link |
| Male Bald 47 Barcode | Agent 47's iconic barcode with the bald hair. | Link |
| Soul-Full Afro | Old school, big afro hair. | Link |
| Sephiroth Hair | Sephiroth's hair from Final Fantasy VII. | Link |
| Buff Chops | Facial hair with large sideburns, Buff Chops. | Link |
| Short pulled back hair | Slick, clean, simple hairstyle for well-adjusted Sims. | Link |
| Nightcrawler | Attractive, wavy, long hair model for female Sims. | Link |
| Joey Hairstyle | 2010's Justin Bieber-style hair model. | Link |
| Skysims Hair Adult | Long and wavy, beautiful hair model. | Link |
| Ade-Marco | Clean, well-groomed, swept-back hair model. | Link |
SIMS 3 Vampire Mods
| Mod Name | Description | Download |
| --- | --- | --- |
| sHoNi's Vampire Overhaul | A lot of changes, fixes and additions to the vampires. | Link |
| More Real Vampires | A mod that makes vampire mechanics more lore-friendly. | Link |
| The Blood Bank | A place to hang out for vampires at nights. | Link |
| Silent Vampire Powers | A mod that makes the vampire powers silent. | Link |
| Vampire Coffin | It adds a coffin for your vampires to sleep in Fitting. | Link |
| Children of the Night | Scary poses for vampire children. | Link |
| True Blood Mod | Changes most of the "plasma" references to "blood". | Link |
| Gothic Mansion | A huge gothic mansion for your supernatural Sims. | Link |
| Rideable Giant Bat | Adds a giant, rideable bat for your vampires. | Link |
| Human Life Span | Makes supernatural Sims' lifespans same as humans. | Link |
---
Conclusion
Here they are, best The Sims 3 mods that you can try out right now. Even though it is a fairly old game, these mods can make the game feel fresh again for you and fix a lot of the annoyances that the native game came with, enhancing your experience. If you found any of the Sims 3 mods we listed here great or helpful or think we missed any, let us know below!
Read More Article related to The SIMS