The article brings you games like No Man's Sky that is based on the action-adventure survival genre. It includes four main activities to perform: exploration, survival, combat, and trading. Here the open universe makes a great amount of exploration where you travel to several planets and feel different environments.
Players also collect several resources in the way that can be used to build up the spacecraft and acts as a method to get them home. As you explore things, you get tools and upgrade your spacesuit as well for better survival. All these games also contain the same genre, so let's have a look.
Platform:

 

PlayStation 4, Microsoft Windows

Genres: Action-adventure game, Survival game
No Man's Sky System Requirements (Minimum)
RAM: 8 GB
OS: Windows 7/8.1/10 (64-bit versions)
CPU: Intel Core i3
VIDEO CARD: Nvidia

GTX 480, AMD Radeon 7870

FREE DISK SPACE: 10 GB
Games like No Man's Sky
Check out our collection of 2018 Best Action-adventure Survival Games like No Mans Sky for PC, PS4, Xbox One.
---
#1 Planet Explorers
The game is based on the adventure role-playing genre where you act as a wanderer in the strange land just after you crashed. As it is vast so the exploration is the open world where plenty of depth is present in the content. The player can choose from the three modes before getting the multiplayer environment.
Gameplay takes place in the future 2287 after you crash and now you colonize the place to survive. Getting Through several harsh environments, you explore and gather materials to build the required structures and tools.
Platform: Linux, Mac, PC
---
#2 Starbound
Again an action-adventure based game that brings you exploration, adventure, plus a lot of creativity by gathering resources. There are six classes that you can choose like Apex, Avians, Florans, Humans, Hylotl, and The Glitch.
Gameplay offers a side-scrolling mechanism that you use during exploration of different planets and collect things from them. The environment of each planet is unique too, and it totally supports the sandbox genre where the exploration is never-ending. These planets include some nice creatures too that don't bother you but beware of cruel animals as they always seek to eat you.
Platform: Linux, Mac, PC
---
#3 Evochron Legacy
A game that features superb graphics while justifying the genre that is exploration and adventure. So it is here among the similar games to No Man's Sky, and the game lets you explore the space that is endless. Here you always try for survival along with collecting things to repair the spacecraft to get back home.
Gameplay gives you things like exploring, mining, building, crafting, and much more. It gives you deep content and earning the game's currency enables you to purchase more upgrades. You are supposed to kill the enemies and be safe against asteroids too.
Platform: PC
---
#4 3079
It sets you in the 3079, so you can feel the advancement of technology in that sci-fi environment. You have landed on a strange planet where the water goes on between Humoids and Neanders. There are demons too who just know destruction and are way more aggressive. You are with Humanoids, so you support them fighting the battles, but you can take Neanders' side too.
Gameplay needs you to try all the weapons and items that come in a huge variety. There are guns, armour, and other advanced weapons that help you completing quests and continue finding your way back home.
Platform: Linux, Mac, PC
---
#5 Lego Worlds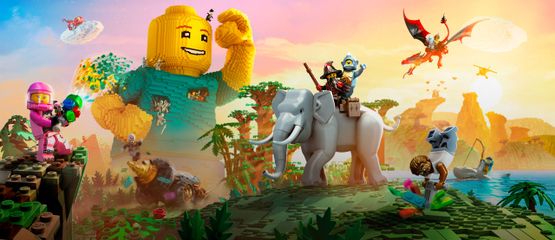 It is more a colourful world with characters that everyone loves to play with. This is also a case of crashing into the unknown land where you aim to repair your machine to return. This requires uncovering three golden blocks and exploring the galaxy as much as you can. The Lego characters make it more appealing to players where both destruction and construction happen.
Gameplay offers to get the things and use them for creation, building, and decoration. Lego currency can be formed by completing quests and side missions that can later be used to purchase more upgrades.
Platform: PC, PS4, Xbox One
---
#6 StarMade
It all takes things from the sandbox genre where things are set in the space. The universe is endless, and so is the exploration where you can build your own spaceships, weapons, gears, structure, and much more. Your journey starts on the lonely planet and gathering of resources makes you rich by time.
Gameplay promises you a never-ending space that means there are endless things to collect and new places to visit. You can apply a huge amount of customizations to your ship. Also, you need to save your treasure from the pirates.
Platform: Linux, Mac, PC
---
#7 Xenominer
The game brings you space survival plus a sandbox based game that sets you in the sci-fi environment. You are alone to survive on the alien planet where you regularly survive and gather things to be safe there. The game gets you night and day cycle where exploration happens only in the night and be safe in the daytime. This all makes it one of the similar games to No Man's Sky.
Gameplay needs you to complete several tasks, and with each completion, you progress. Resource collecting gives you tools to survive and build your spaceship and this way things go on.
Platform: PC, Xbox 360
---
#8 Lunacraft
It allows having the genre on your iPhone where you encounter several things just by making use if your fingers. Here you have to colonise the place and this building takes you through several levels. Each level gives you a new environment to explore and things to shape the place.
Gameplay brings you fights too other than colonizing the world where you fight against the aliens and other bad factors. Exploration happens in any direction, and a huge number of materials can be collected that players use to craft devices and other things.
Platform: iOS
---
#9 Kerbal Space Program
The game is about Kerbals that are like green creatures that get you required supply and volunteers to colonize the space. It is like less goal-oriented where you are free to do things at your will and learn the game's mechanics. The entire process in Kerbal Space Program stays really enjoyable.
Gameplay needs you to construct several types of spaceships and customize the using several things that you find. These spacecraft can be set in the obit, or you can send them to visit other planets to conduct some research there. Overall, it's a great environment to be there and enjoy.
Platform: Linux, Mac, PC
---
#10 Out There
The game has futuristic settings where you wake up from a deep sleep and find yourself outside of solar system.  Your only hope to get back to home is exploration and finding things that you can collect and use. There are stars and planets to jump in and looking for resources. Also, there are aliens that you meet in the way.
Gameplay needs you to manage all the resources to repair your ship, and if you are out of resources, then you are dead. Also jumping to several stars and planets need some of your fuel and oxygen, so you have to take care of that too.
Platform: Linux, Mac, PC, Android, iOS
---
#11 Edge of Space
A game that happens on the list of No Man's Sky alternatives because here you explore the space and find resources. The game remains in a 2D style where exploration, combats, and mining resources are major factors. You can have it in both single player and multiplayer where your main aim is to survive the unknown universe.
Gameplay allows fighting against the monstrous enemies while making the place habitable. There are monster bosses too, but you have to regularly find resources and craft them to produce things.
Platform: PC
---
#12 DarkStar One
Darkstar One is the strange universe where you have to survive fighting against endless enemies while interacting with other things there. Being Kayron Jarvis who is on the journey of revenge for his father's death use the ship made by the ancient technology.
Gameplay includes exploring hundreds of stars and planets and you make a friendly environment towards the living creatures there. So you get the needy info from them and also take part in trading and hunting too. So there are many paths to get the info, and it depends on you to choose any of them.
Platform: PC, Xbox 360
---
#13 Darkout
It is about trying to live on the planet having the harsh environment. The planet takes you to the sandbox experience where you perform activities like crafting, building, and finding other resources. Your ship crashes to the unknown land where no one lives, but only enemies land dark.
Taking the gameplay along you fight off the enemies and keep them from entering your boundaries. Here light is your main tool to damage or kill the enemies and resources also include things like glow sticks so you can make torches, lanterns, flashlights, and other light sources.
Platform: PC
---
#14 Spore
The next one is Spore that comes one of the No Man's Sky alternatives. The game is about creatures building or creation that happens in the space. You control all the development stages of your creature from the single cell to the fully developed creature. Just not the creatures but you are allowed to create vehicles and building too and several customizations are available for these.
Gameplay initiates you with choosing the planet to live, and then you get the single cell creature that you develop on that land. Taking care and feeding the animals make them grow big and use them to fight from your side.
Platform: Mac, PC
---
#15 Evochron
    The game takes you in the space where you crave for the treasure. There are several jobs that you can accept and complete them. There are serial combats too going on, and the universe offers a lot to explore. Trading is available to where you trade the resources you find. Several other things like transporting passengers, getting in dogfights and many other activities are there.
Gameplay starts with choosing any of the roles like mercenary, trader, combat pilot, etc. each option offers you certain things and wealth to start your journey.
Platform: PC
---
Conclusion
If you love playing No Man's Sky, you'll absolutely love these games like No Man's Sky. They all take you to the universe with your broken or crashed spaceship so you can start your journey on improving your path and get back to home.