Even though vehicular soccer games are not new, Rocket League is one of the leading titles of today that popularized the genre. Since its launch in 2015, the game got a lot of attention and still has over 30,000 players playing it on Steam alone, not counting the PS4 and Xbox One players.
The combination of a high skill gap that requires a manual control of the ball and the necessity of teamwork, the game manages to keep its fun for a long time. Yet there are still other games that you can enjoy with similar gameplay or style, so today we are going to talk about those games.
13 Games Like Rocket League [2018]
Today, we brought you some of the absolutely best games like rocket league that provide you with a huge world to explore and a lot of exciting gameplay elements. Below are the 13 Rocket League type games that everyone should play, at least once.
---
Rocketball: Championship Cup
The best way to describe Rocketball: Championship Cup would be to call it the mobile version of Rocket League. It is a Massively Multiplayer Online vehicular soccer game designed for Android, developed by Randomldea. The game combines the concept of soccer and vehicular gameplay just like Rocket League. It's dynamic physics and impressive, smooth visuals enable you to perform the same advanced movements with Rocket League with enough practice. Plus, it is free, so if you have an Android device, jump right in!
---
Laser League
If you liked the futuristic style and the original, simple-yet-addicting gameplay of Rocket League, Laser League has all of that. In a futuristic arena, you and your teammates need to activate laser nodes. Your lasers with your color do not hurt you but they immediately kill an enemy they touch. There are different classes with different abilities such as stunning enemies or stealing their laser nodes, you can pick up fallen teammates and different power-ups during the match. All these simple concepts come together to form a lighting-fast and addictive gameplay that is around team-work, so if you are looking for a game with original gameplay to enjoy with your friends, Laser League is a great choice.
---
Supraball
Are you frustrated that you cannot control the ball correctly in Rocket League? Do you want to shoot the ball to precisely where you want? Meet Supraball, an "FPSG" game with developers' definition, First-Person Sports Game. It is simple, you control a player in a soccer match with a gun that lets you pick and shoot the ball or bounce it to score a point. It is fun, simple, addictive and free, it also runs pretty well on most systems, so why wait to get your seat?
---
Disc Jam
Disc Jam is a fast-paced action-sports game that combines air hockey and tennis while pitting players against each other in a frantic, fast gameplay. Players need to retrieve and throw a glowing disc while unleashing devastating abilities and defending their end zone. It has a really easy to grab but hard to master gameplay with small tactics having huge impacts of the score. You can play it 1v1 or 2v2 and the player customization is considerably deep. If you want a flashy, simple and fun sports game, Disc Jam is another addicting choice.
---
Ball 3D: Soccer Online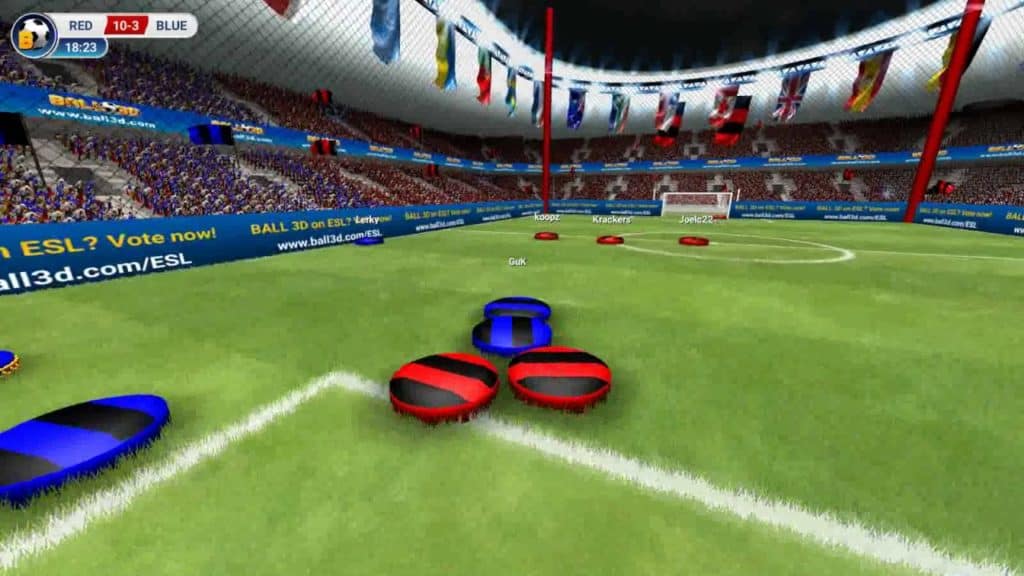 I am sure you have played Haxball with your friends before. The best way to describe Ball 3D: Soccer Online would be "A 3D Haxball". You control discs on a field with an aim to shoots goals. Simple, right? Wrong. Because Ball 3d: Soccer Online comes with more game modes like basketball, hockey, handball, racing and even battle royale (I am serious.). Plus, it is free. Combine that with 23 stadiums, realistic physics, and customization, you get a long-life sports game that you can enjoy.
---
Kopanito All-Stars Soccer
Have you ever wished for an arcade soccer game without a referee with fun gameplay? Well, Kopanito All-Stars Soccer is just that. With up to 10 players, you control a soccer player in a field in which you can use over-the-top abilities like placing a huge fan behind your goal post to prevent goals and freezing enemies. There is no referee, so you can slide and steal the ball from your opponents without regret. While it has a fast and arcade gameplay, it still has a skill cap with timed passes and curved shots. Plus, it supports local co-op. If you want a fun and fast football game, Kopanito All-Stars Soccer is an awesome game.
---
Head Goal: Soccer Online
Sometimes you just want to enjoy a simple game while not worrying about complex game mechanics and a game like Head Goal: Soccer Online is just for those times. Controlling a circle in a 2D stadium, you can play football or volleyball 1v1 or 2v2 against people online or your friends. It's great, free game to just go in and chill out in and pass time.
---
Zero-G
In our 8th pick, we go to the future and turn off the gravity. Zero-G is a futuristic sports game in zero gravity in which you set out on a 1-3 player cooperative campaign to become the champions of the solar system or engage in 2-6 player competitive matches on local multiplayer. You play your matches in a small, rectangular shaped octagon with zero gravity. You can play the campaign with 1-3 players or dive into the 2-6 player competitive multiplayer with shared screen, which makes for a great party game to enjoy with your friends.
---
FootLOL: Epic Fail League
The one key phrase to describe FootLOL: Epic Fail League would be "over the top". FootLOL lets you use mines, cheats, aliens, cows, guns and many more cheats to decimate the opposing team and protect your players. It is more focused on destroying your enemies rather than scoring the goal and with all those flashy, ridiculous skills, it can get pretty chaotic and fun in a short time. As a manager, you'll take your team through new planets while unlocking new gadgets, improving your players' performance, and unlocking new kits and hats for them to wear. Or you can decimate your friends in multiplayer. If you want to live the phrase "chaotic fun" in a soccer game, FootLOL: Epic Fail League is your game.
---
Robot Soccer Challenge
Robot Soccer Challenge is a football game in which robots on a remote control stand against each other. It is like a simpler version of Rocket League while preserving the skill involved. Movement is slower and you can control the ball easily thanks to the small cup in front of your vehicle, but you have maneuver to trick your opponents, your passes should be aimed well and your shots have to be much more precise since the goal posts are really small. You can play a championship alone or with co-op, or you can battle against your friends in local multiplayer. If you want a slower, more grounded vehicular sports game, Robot Soccer Challenge is a good choice.
---
Twisted Metal
Most vehicular sports games let you foul your opponent in many different ways, but if you want to go to the extreme in that regard and forget about shooting a ball in a goal post, meet Twisted Metal, the game where you shoot rockets to your opponents instead of leather balls. It offers intense vehicle combat and reboots the Twisted Metal franchise that first launched on the original PS One. It features both a story campaign with 3 different story arcs and multiplayer that you can play shared-screen with 4 players or online with 16 players. You can use 17 vehicles with different speeds, armors and weapons and use power-ups on the battlefield to get the upper hand. The environment destructible too, so the playground will change drastically as the matches go down. If you want a chaotically fun vehicle combat game, there is nothing like Twisted Metal.
---
Heavy Metal Machines
Heavy Metal Machines delivers an action-packed multiplayer experience with a MOBA-like gameplay with vehicular combat. Your aim is to deliver a bomb to the enemy base while racing through a race track in 4 vs 4 matches. Doing so is not that easy since every vehicle in the game is suited with different weapons and skills such as speed boosts, damage abilities or crowd control. The racing gameplay combined with different skills come together beautifully in a great control scheme, allowing for quick manuevering. Plus, it is a free-to-play title, so if you want to join the deathly race, come right in.
---
FIFA 2018
We couldn't finish a list about a soccer game without mentioning the industry leader, FIFA. EA's football series continues to evolve with annual releases and FIFA 2018 is our latest entry. The game's story begins where it left off last time, continuing Hunter's story. This time he wants to play with the best players and teams and go big. Gameplay-wise, there is nothing revolutionary here since FIFA is already the industry standard at this point, but it makes enough additions such as quick substitutions, amazing lighting and new negotiations in career mode to ensure its players that it is not sitting on its throne doing nothing. With all that, it is one of the best football games ever made for football fans.
---
Conclusion:
While vehicular sports game genre is not extremely populated, there are still a lot of similar games like Rocket League to be enjoyed by its fans with different gameplay mechanics and innovative ideas. We picked our best ones amongst them today, if we missed a great title, let us know below!