If you are looking for games like Wizard101, then it is the right place. But before that, let's just take a look on Wizard101. The game offers a multiplayer online role-playing game that was first developed on September 2nd, 2008. The company that published the game was kingsisle entertainment. Here as being a player, you perform the role of a student who experiments with witchcraft and wizardry. You get several powers and magic that you use to save the world named as Spiral.
The combat system is pretty attractive due to casting spells and showing off magic. There are endless enemies, so you enjoy the quests and releasing several powers to take down your enemy.
Players start with creating the character and choosing the class or role and skills accordingly.
This way Wizard101 makes its name among the millions of players who love being experimental with spells and magical power. The characters are quite clear and understandable, and the graphics are engaging too. There are things to experience just like exploring, collecting resources, get into quests and complete the mission, etc. Visit Game Site
Wizard101 Game Details:
Platforms: Microsoft Windows, Macintosh operating systems

Developer: 

KingsIsle Entertainment



Genre: 

Massively multiplayer online role-playing game
System Requirements for Wizard101 Free Online Game
| | | |
| --- | --- | --- |
| | For Windows | For Mac |
| Internet | Required | Required |
| OS | Windows operating system currently supported by Microsoft Vista Service Pack 2 or higher | Mac OS X Snow Leopard (10.6) or newer |
| Processor | 1GHz Intel Processor | Intel-based Macintosh system running Mac OS X |
| Disk Space  | 5 GB of free disk space | 5 GB of free disk space |
| RAM Space | 512 MB | 512 MB |
| Video Card | Best results with GeForce 2 or equivalent (standard in most PCs) | |
| DirectX  | 9.0 C or newer | |
Games like Wizard101
Check out our 2018 collections of best multiplayer online role-playing games like Wizard101 for Android, PC, PS4, Xbox, on Steam with System Requirements.
---
Marvel Super Hero Squad Online
The game offers you the MMO gameplay that blends social features too. So being a teenage or so you can try the game and enjoy being virtually social plus action to get on. The characters are a good match for children or teens, so the game is dedicated to them majorly. The characters come in the Marvel franchise from where you can take a role of Hulk, Spiderman, and all superheroes from Marvel.
The gameplay allows two type of control either using the mouse or the arrow keys. This way you control your hero and move it on fighting all the enemies you encounter on the way to meet the boss enemy. There is no restriction on exploring and you are free for crafting too by gathering materials and make useful items.
On what platforms can Marvel Super Hero Squad Online game be played?
Marvel Super Hero Squad Online can be played on PlayStation Portable, Wii, PlayStation 2, Nintendo DS
---
MilMo
MilMo deserves being here among the Wizard101 alternatives. The game has a very cute environment, and the characters seem very adorable. The ability to play in the browser is a fun point that makes the adventure quick accessible. MilMo is perfectly designed for younger players as the entire game world suits younger audience. You will definitely love this game where your journey begins on an island, and you cross several islands. All these lands are full of treasure, areas to explore, and that means so much adventure.
Other than exploring, the gameplay requires to accept quests and face the battles against enemies. There are plenty of monsters and boss monsters too to so you play with the presence of mind in this game. Several guests even allow choosing the way you want to finish them in.
On what platforms can MilMo game be played?
MilMo can be played on Browser
---
Villagers and Heroes
If you already have heard the name Mystical Land, then it is the same one with a new name as Villagers and Heroes. It is a free MMORPG where the content is pretty deep, and there is so much to explore and enjoy. There are enemies in several forms which you need to kill and gather your awards. Take them in your inventory and use whenever you want to.
The game requires you to complete several quests to get more lands and rewards. Once you have chosen the class from the warrior, priest, wizard or hunter, you start playing. But Villagers and Heroes is not only about combats. Here you can perform some great activities like crafting, gathering, building your home, or just trade things. Being an MMORPG, it allows you to follow other players and enjoy the activities together.
On what platforms can Villagers and Heroes game be played?
Villagers and Heroes can be played on Mac, PC
---
Dungeon Blitz
The game offers you a side-scrolling controlling mechanism in the MMO mode. Also, you can have the game in your browser with several other players and enjoy the nice gameplay. In the game, you are in the land named as Elyria where a ship dropped you.
Now in this island, you aim to explore the entire land and level up this way. The game serves you basic tutorials so you can begin your journey of exploration, fighting off monsters, gather things, and meet other players. You can choose from three classes like paladin, rogue, and mage. Each of them has gender choices too as male and female. The gameplay mixes up the exploration of dungeons and the outer world. It allows having skills and items gathering that you use for crafting. Loot drops can be seen too.
On what platforms can Dungeon Blitz game be played?
Dungeon Blitz can be played on Browser
---
Epic Duel
Epic Duel is a vibrant world with more like robotic characters that are so colorful in themselves. Due to the same concept of the combat system and gathering the game is one of the Wizard101 alternatives. Here customization is available for weapons too not just for the character.
You can play the game in any browser and feel the futuristic things. Here you can feel both PvP and PvE, and that's definitely worth trying. Same as the name, the game allows you whether fight against 1v1 or 2v2 and establish the achievements. Same as the wizard101, the game has classes, skills, levels, and so on.
The combat system here is turn-based where players select their next moves, and the victory or loss depends on that. The more your stats are, the more chances of winning you have. Steer your character wisely and upgrade the skills to win.
On what platforms can Epic Duel game be played?
Epic Duel can be played on Browser
---
Puzzle Pirates
A game especially made for younger players who want to experience the life of pirates in the MMO world. Since 2003, the game has been progressing because of the crafters and combination of pirates' materials. You can either pay in the browser or download for your device.
There are several characters to choose from, and all of them are equally adorable wearing the entire pirates' stuff. Being the MMO the game allows you make some friends too as there is always someone you can have a convo with.
Gameplay takes you through several mini-games, and you can also enjoy puzzles as a second way of entertainment. In the puzzles, you are allowed to choose between single and multiplayer and start competing against others or work together. The aim is to take over new islands with your crew, and collect items. So you sail across the sea, manage your crew, find treasure and explore several towns and islands.
On what platforms can Puzzle Pirates game be played?
Puzzle Pirates can be played on Browser, Linux, PC
---
Pirate101
Another pirate-themed MMORPG that is dedicated to adult fellas and teens. This one also comes as one of the Wizard101 like games because of the similar concepts and motives to achieve. KingsIsle Entertainment really did a great job that first came to light in 2012. The game has been a favorite one of millions since then. The pirate theme is all that makes it demanding and create the urge to play.
As the gameplay players travel and explore the world but sailing is not the way of traveling, and you use skyways for that. There is the beauty but danger too and in that case, you can use windlanes that fly you faster than usual. Also, you can adopt pets and decorate your house as additional activities.
On what platforms can Pirate101 game be played?
Pirate101 can be played on Mac, PC
---
Spiral Knights
A more innovative game that surely makes itself awe-inspiring and ready to give you the same experience. It can feel a lot more like Zelda series, but the game introduces MMO mode with advanced technologies and futuristic things. Users can either play it in the browser or download into the devices. Here your character is called knight which player chooses in the beginning. And this way the exploration begins and players get introduced to all the mechanics with tutorials.
Gameplay needs you to take part in battles where you face monsters and boss enemies. There is a broad content to explore that includes dungeons, quests, gathering, etc. The more you fight and go on the more upgrades you get for your weapons. Here you can take
Different armors with you along with two add-ons and four weapons.
On what platforms can Spiral Knights game be played?
Spiral Knights can be played on Browser, Mac, PC
---
Dofus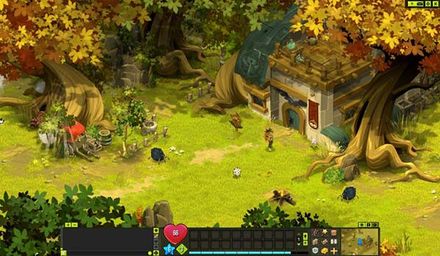 A game which allows MMORPG and for the visuals it promotes a green world all around. The reason behind its success is the great and attractive visuals with sharp looking characters.
The story begins in the Dofus universe that features several worlds for you to explore. Also, classes are there that you choose from warriors, summoners, healers, treasure hunters, etc.
Character customizations are available so you can have your avatar making a wide amount of changes. The gameplay offers a turn-based combat system that is different from most MMO games. So you can win over even if you lack in skills. Just plan your wise turn, implement it, and get success. And this beautifully portrayed game took a lot of Photoshop actions to be made as colourful and as user friendly as possible.
On what platforms can Dofus game be played?
Dofus can be played on Linux, Mac, PC
---
Hero Smash
Another one that comes as one of the similar games like Wizard101. It is browser-based gameplay in which you feel the MMO environment, and hence it becomes a lot enjoyable. Artix Entertainment is the developer for the gameplay that allows heroic performances and the visuals are pretty good too.
Before your journey, the game allows you to choose superpowers that you feel exciting. Looks are customizable too so you can feel that superhero. The combat system is somewhat fast paced where you can choose either villains or heroes to take their side.
For the gameplay, players take several quests from the nonplayer characters come with an exclamation mark. Afterwards, you get to the missions to kill a group of enemies. This allows exploring all around, and you level up with every mission you complete.
On what platforms can Hero Smash game be played?
Hero Smash can be played on Browser
---
Twin Saga
The game follows the MMO experience just like other games in the genre. Players find it enjoyable always because of the impressive visuals and the class system that you can pick up anyone. Another thing about the class system is that you can switch to any class you want to experience. The game manly promotes traveling while being attractive for graphics and allows players to take part in several quests and going forward.
You can choose from classes like swordmaster, mage, rogue, monk, gunslinger, cleric, paladin, berserker, etc. you get the skills accordingly and switching offers yo living a particular character.
As the gameplay supports the MMO mode, so it allows performing several activities such as crafting, fishing, gathering and even farming with other players. The game offers you a Terracottage that is your home to plant crops and craft material.
On what platforms can Twin Saga game be played?
Twin Saga can be played on PC
---
Amazing World of Gumball
The game is designed for children or young age groups especially. It allows you to experience the MMO facilities. In the game world, they can spend time for hours, meet new people and make friends. The graphics seem really fresh, so it's the unique things about the game along with the innovative characters.
Kids who are seeking for a great adventure without having any side effects can head to the game world. These adorable characters come in three forms bear, rabbit and cow that you can choose and start playing.
The gameplay sets you in an airship with all the voice tutorials that introduce you to the Amazing World. This is the voice of Queen Vexa that gives you instructions for setting up combats that are very much fun to have. Also, you do things like gardening, cooking, fishing, shopping, treasure hunting, etc.
On what platforms can Amazing World of Gumball game be played?
Amazing World of Gumball can be played on Browser, Mac, PC, Android, iOS
---
Elsword Online
Elsword is gameplay that features the Korean version following the same objective like Wizard101 and this way it falls among the Wizard101 like games. The action package with the MMORPG makes it even more demanding in the genre. So if you are expecting an excellent combat system including all the features of MMORPG, then this is a must-have game. Also, PvP can be felt too, and you can use the chat system too.
The gameplay is about searching for the mysterious stone El. Now you are from the group of the adventurers who is on the journey of searching that stone. Following the dialogues, you take several quests from the NPCs, gather items, trade them, and continue exploring regions.
On what platforms can Elsword Online game be played?
Elsword Online can be played on PC
---
Drakensang Online
We have to mention Drakesang Online in the list of games like Runescape because the game is impressive and you won't even believe what you will get when you enter this world. Bigpoint Games developed this fantastic MMORPG with the addition to enjoying in multiplayer mode.
In the same time, we have to mention that it is inspired by Diablo Series when it comes to fighting creepy monsters on the map. The setting is in the medieval era, which is another similarity to Runescape.
You can pick different classes such as Mages, Rangers, Knights and Dwarves and each type contains its powers, skills, and abilities.
On what platforms can Drakensang Online game be played?
Drakensang Online can be played on PC, Mac
---
Koyotl
It is the most adventurous game in the genre that may be the last one, but it doesn't lack in anything. One of the similar games like Wizard101 that you can enjoy in your browser for free and take pleasure of the RPG mechanism. The game promotes battles in several environments and customizations are available too.
The gameplay allows a turn-based combat system where they can choose between basic attacks and the skills the unlocked. Here battles go on with enemies in several forms. You can also use some items against the opponents other than skills. These items can be weapon, torso, legs, rings, gloves, etc.
Here you are in the fantasy world with your choice of character that is ready to take adventure and quests scattered in a vast region. Koyotl is about good and evil where you play as a hero against the evil and destroy it at every step. You can pick up from six races that come with separate skills. You can choose from the four classes as two are accessible by premium users only.
On what platforms can Koyotl game be played?
Koyotl can be played on Browser
---
Club Penguin Rewritten
The famous Club Penguin game that was massively popular among pre-teen players has recently come back in a rewritten form. This free-to-play virtual world of Club Penguin Rewritten is based on the original Disney version. The only changes you'll experience is better graphics (while keeping the original club penguin animation).
You have over 20+ minigames to earn coins, more than 10+ pet puffles to adopt, customisable penguins, options to decorate your igloo and of course, all the socialising with other penguins that make the game so much fun. 
On what platforms can Club Penguin Rewritten be played?
Club Penguin Rewritten Can be played on Browser
---
Toontown Rewritten
Another one of Disney's games that was discontinued and now revived, Toontown Rewritten is a massively multiplayer game built for kids and teens (but adults playing the game aren't judged) where you create your own customisable 'Toon' cartoon animal character and socialise with other toons, while battling the 'Cogs' – enemies that have evil intentions of turning Toontown into a business venture. 
With lovable characters and silly soundtracks, this game is a big dose of nostalgia. It's not so simplistic that you dose off, but there's also nothing stressful or chaotic about this game. If you grew up with Toontown and decide to give it another shot, you'll be surprised at how fast-paced and exciting the gameplay can be! Let's face it, as adults we all have experienced battles with real-life cogs (a metaphor for the looming corporate trap). 
On what platforms can Toontown Rewritten be played? 
Toontown Rewritten can be played on Browser.
---
Poptropica
This online roleplaying game was developed by Pearson Education's Family Education Network (Yes, Pearson is the publisher of school textbooks) back in 2007 for kids between the ages of 6 to 15. If the cartoon graphics seem familiar, it's because it's made by best selling author Jeff Kinney, of the Diary of the Wimpy Kid series. He's still the Creative Director of Poptropica to this day. 

Even though Poptropica is aimed at being an educational game for kids, it's still lots of fun. For many kids it was their first experience in virtual gaming with a huge virtual world to explore in the form of different 'islands'. You also get to customise your Poptropica character (albeit limited options) 
On what platforms can Poptropica be played?
Poptropica can be played on Web Browser
---
World of Warcraft
The warcraft series has been around for a long time, and the developer Blizzard has constantly adapted the MMORPG game for the times over the years. The fourth installment, World of Warcraft has brilliant graphics and a detailed storyline with a lot of game-play, making it anything but an outdated game. 
With a much smoother levelling-up game progression experience and detailed character arc that get the players emotionally invested, World of Warcraft appeals to new players just as much as it does to devoted decade-old citizens of Azeroth (the WoW world).
On what platforms can World of Warcraft be played? 
World of Warcraft can be played on Microsoft Windows, macOS
---
Conclusion
All three fifteen games like Wizard101 are ready to offer you the same game in a different environment and with different characters. Most of them are available to play in the browser, and there are games for both children and adults. So whichever game attracts you with the storyline, download it and see how it feels to play. Do not forget to share your opinions on the game you try.