Cyberpunk 2077 looks truly special. A beautiful, well-realized and extremely detailed game with a ton of mechanics and systems, from first-person shooting to hacking to driving to stealing, and more.
The only problem is that we don't have any clue as to when this science fiction epic will launch. If you can't wait to play it, here are 15 games you can play to get you hyped and ready for Cyberpunk 2077.
CD Projekt Red's hugely-anticipated future-sci-fi open world RPG first-person shooter Cyberpunk 2077 has been making waves at E3 and looks to be something truly special. Sadly, we may have to wait a while before playing it.
If you want to play more games like Cyberpunk 2077 then you are in the right place. Today, we bring you some of the absolute best Cyberpunk 2077 like games that provide you with a huge world to explore and a lot of exciting gameplay elements.
Cyberpunk available on platforms

:

PlayStation 4, Xbox One, PC

Developer: CD Projekt Red
Publisher: CD Projekt Red
Release Date: TBA
Cyberpunk 2077 E3 Trailer
Games Like Cyberpunk 2077 (2018) – Similar Recommended Games
---
1. The Witcher 3: Wild Hunt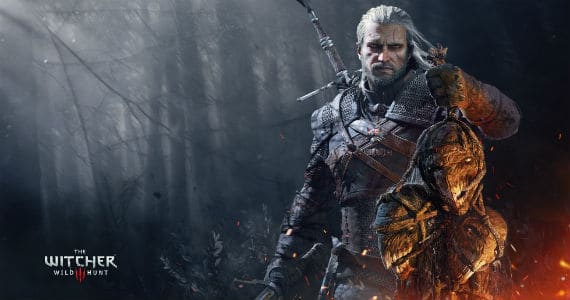 The game that brought CD Projekt Red into the mainstream. The Witcher 3 is a vast, deep, beautifully-crafted and wonderfully-realized RPG that set a new bar for open world games and role-playing experiences. It has so many modding scenes that has brought some significant improvements to an already-great game.
An amazing game by all accounts, everyone should play The Witcher 3, and if you're excited for Cyberpunk 2077 and haven't played it, then what are you doing? Go play it, now!
Platforms: PC, PS4, Xbox One
Also Read: 15 Games like The Witcher 3: Wild Hunt
---
2. The Witcher 2: Assassin of Kings
The Witcher 2 may not be as open or large as The Witcher 3, nor is the combat quite as refined and smooth, but The Witcher 2 still stands as some CD Projekt Red's finest work. A gripping narrative set in an engrossing world with plenty of memorable and well-written characters. The Witcher 2 is a great RPG that any CD Projekt Red fan should play.
Platforms: PC, Xbox 360, Mac
---
3. The Witcher
The Witcher, on the other hand, is a bit more of a tough sell. The first game in The Witcher series is much rougher around the edges than its sequels and is a lot less accessible. The game is only on PC and doesn't support controllers of any kind (at least, not easily) and certainly isn't for everyone.
The combat is pretty awkward, and definitely lacks the polish and flair of the later games, but the game's world and writing still hold as being unique, fascinating, and deeply engrossing. If you've already played 2 and 3, why not check out the game that started it all? It's certainly easy enough to find a dirt cheap Steam key for it.
Platforms: PC, Mac
---
4. Deus Ex: Human Revolution
2011's reboot of the cult-classic PC game, Deus Ex: Human Revolution is a brilliant modern interpretation of the mechanics and ideas that spawned an entire genre of games in 2000. The game's slick art design and unique look help to build a rich and fascinating cyberpunk world dominated by huge corporations and sick cyber-augmentations.
It's a must-play for any fans of cyberpunk, and Cyberpunk 2077 seems to be taking seem pretty direct inspiration from Deus Ex, so you'll want to check out Deus Ex: Human Revolution to get you prepped and ready.
Platforms: PC, Xbox 360, PS3
---
5. Deus Ex
Probably the most iconic cyberpunk game ever made, the original Deus Ex is a marvel of cyberpunk world-building in video game form. A deep and engrossing narrative intertwining future mega-corporations, human augmentations, and future-cop badassery.
Deus Ex is a game that everyone should experience at least once. Parts of it may be a little outdated, and you may find it hard to go back to in 2018, but if you're a fan of the cyberpunk setting then you should definitely check it out.
Platforms: PC, Mac
---
6. Deus Ex: Mankind Divided
The most recent addition to the Deus Ex series, Mankind Divided takes the formula Human Revolution established and further refines it with tighter controls, expanded systems, and sharper visuals.
Although arguably not as good as Human Revolution, it's still a quality game and is well-worth checking out if you're hyped for Cyberpunk 2077.
Platforms: PC, PS4, Xbox One
---
7. Dex
Dex is a neat game that takes the ideas and concepts of a game like Deus Ex and applies to a 2D format. A role-playing game set in a well-realized cruel and harsh cyberpunk world.
It features some quality writing, interesting quest lines, a cool hacking mini-game, and more. The combat is not half-bad either. A very cool game that cyberpunk fans should really check out.
Platforms: PC, PS4, Xbox One, Mac
---
8. System Shock 2
Another classic PC game on par with Deus Ex in its influence, System Shock 2 still holds up as a brilliantly-written and well-realised future cyberpunk hellscape. You'll see the clear influence of this game on the likes of Bioshock, and more.
You may need some mods to make it look a little less dated, but System Shock 2 is still a legendary game that any fans of cyberpunk should experience.
Platforms: PC, Mac
---
9. Satellite Reign
Satellite Reign is an extremely cyberpunk game with some XCOM-style squad-based tactical gameplay. It's a neat and well-realised world with some gripping writing and an engrossing world.
Satellite Reign is a must-see for cyberpunk addicts.
Platforms: PC, Mac, Linux
---
10. E.Y.E.: Divine Cybermancy
If you like cyberpunk and you like RPGs, particularly PC-centric RPGs, why not check out the weird and wonderful (mainly weird) E.Y.E: Divine Cybermancy?
Despite having played it several times, I can't really tell you what it's exactly all about, but it's certainly unique. There are some neat ideas and concepts that, although not all well-executed, make for a thoroughly unique experience. It's a very weird game and people should experience it. And, hey, maybe you'll end up understanding it better than I did.
---
11. Hard Reset

More of a shooter than an RPG, Hard Reset is a detailed and pretty cyberpunk shoot-em-up from the makers of the Painkiller games where you fight lots and lots of robots and other cyberpunk stuff.
It's a neat cyberpunk world that's pretty fun to run around in and there are some cool and unique weapons in the game.
Platforms: PC, PS4, Xbox One
---
12. Shadowrun Returns
Shadowrun Returns is the crowdfunded reboot of the 90s strategy game, Shadowrun. It's a heavily narrative-focused game with some great writing, a nice art style, a solid and engaging combat system, and a very well-realised cyberpunk world.
An awesome and unique blend of fantasy and cyberpunk, Shadowrun Returns is a very cool game for people that enjoy diving deep into a dark and murky cyberpunk world.
Platforms: PC, Mac, Linux, iOS
---
13. The Technomancer
The Technomancer is a cool little RPG with cyberpunk elements. Although it may be a little rough around the edges, and it most certainly lacks the polish of Cyberpunk 2077 or The Witcher 3, it's still a pretty cool game that offers a decent degree of choice and player freedom.
Worth checking out if you're into sci-fi and RPGs and you don't mind a bit of jank.
Platforms: PC, PS4, Xbox One
---
These are just a few of the games you can check out if you can't wait for Cyberpunk 2077. CD Projekt Red's cyberpunk epic is sure to be a vast, deep, and epic game that you'll be lost in for dozens of hours.
If you think there are other games like cyberpunk 2077 that should be on the list then feel free to mention them in the comments section below.