Risk of Rain 2 is an indie co-op action game that is a sequel to the Risk of Rain game. Its gameplay follows roguelike mechanics and is one of those games that makes you come back for more.
Risk of Rain 2 does not have peaks and valleys like a traditional game. It progresses only in one direction, upwards. By the end of your run your character would have been souped up with so many crazy power-ups that your character would just look like a late-game jenga tower.
Although it does come under the umbrella of a roguelike game, Risk of Rain 2 does not punish you with too many sacrificial choices, as most power ups are additive. This additive nature of the powerups adds to the power creep mechanics making it so much more fun to play!
If you truly love Risk Of Rain 2, and are looking for more games to satisfy your power creep needs then take a look below to find the best games like Risk of Rain 2.
Warframe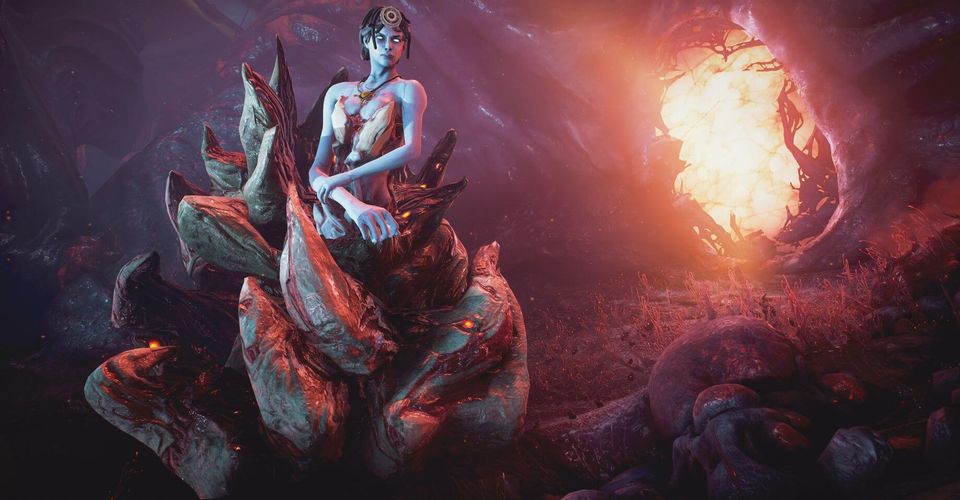 Warframe is a game that has constantly evolved through the years and has amassed a loyal fan base for itself.
This game is not your typical rogustyle game as it follows a narrative, with levels that are not generated procedurally. But the games combat is very similar to Risk of Rain  2 and slashing through the hordes of alien enemies will bring you the same joy and content as Risk of Rain 2.
Much like Risk of Rain 2, Warframe also offers a wide variety of weapon, armor options that you can use in your unique way to slash across your enemies.
The Binding of Isaac: Rebirth
The Binding of Isaac: Rebirth is a classic roguelike game as it incorporates many of the elements of the roguelike genre of games into a nice and enjoyable package. 
The game has procedurally generated levels with a large number of power ups and items that can be used during your run. The game also introduces certain items that can harm your build.
Overall, this is a very well built roguelike game like Risk of Rain 2 and any fan of that game would feel right at home playing The Binding of Isaac: Rebirth.
Noita
Noita is a game in which you play a wizard that uses a magic wand to cast spells. Noita is a more traditional roguelike game that requires you to build your arsenal of tools as you progress and forces you to use the environment to gain an advantage.
An example of this would be to use the spell that casts fire when the surroundings are covered in highly flammable oil, burning your enemies to a crisp.
The game is still in early access but looks to be a great game that is gonna have a successful release.
Hades
Hades is another fantastic game that gets all the elements for a roguelike game right! It has a great storyline (based on Greek mythology) coupled with some amazing visuals and an intense soundtrack that also has great voice overs
The game offers a variety of abilities and has tight combat mechanics making the game exciting to play.
Monolith
Monolith is a top down adventure shooter game that offers multiple procedurally generated levels. The story requires you to explore an old abandoned facility in search of the ultimate power.
Along the way you will have to fight through enemies using the tools and weapons you picked up, in typical roguelike fashion.
Synthetik
Synthetik is another shooter game that is very unforgiving. It is set in a world that is run by machines. Your aim is to push floor after floor and defeat  the robot army using an array of powerful weapons, upgrades and most importantly your quick reflexes.
Dead Cells
Dead Cells is a hack and slash roguelike game. You can describe the game as a metroidvania inspired action game. The game has great sound design and visuals addin go the feel of the game.
The hack and slash combat mechanic is something that will really resonate with fans of the Risk of Rain 2 game.
Nuclear Throne
Nuclear throne is an action game set in a post-apocalyptic world. You play as mutant and must fight through all the enemies to become the ruler of The Wasteland.
Mutants use the high levels of radioactivity surrounding them to mutate and grow new limbs and armour to use in battle.
All the Risk of Rain 2 fans would be delighted by the large amounts of weapons and upgrades  available in the game.
I Hate Running Backwards
I Hate Running Backwards is an action packed endless runner.  The game has an adrenaline packed shooter mechanic that requires you to focus on completely destroying the surroundings and annihilation of your enemies.
The game also has a time travel element that adds to the lure of the game.
Hammerwatch
Hammerwatch is a fast paced game set in a fantasy world. Hammerwatch focuses on giving you great gameplay experiences and hence keeps the story very minimalistic. 
The game has a lot of settings that you can tweak to set the game just right for the experience you want to have. 
The game also offers great replay value by allowing players to use modding tools to create new maps and also entirely new campaigns.
Overture
Overture is a dungeon crawler that brings together multiple game elements from big franchises. Overture offers as many as 12 different characters to play with. Regardless of the character however you will find yourself clicking and pressing  away at your mouse and keyboard in chaotic fashion.
The game also has a neat running mechanic where your evasiness increases if you move in the same direction of your mouse.
The battles are split across multiple levels with rewards for killing your enemies being XP, gold and sometimes rare dropped items.
Final Thoughts
So those were some of the games that we recommend if you are a fan of the Risk of Rain series. We have also mixed in games that give a slightly new experience so that you can explore further and have more fun gaming!